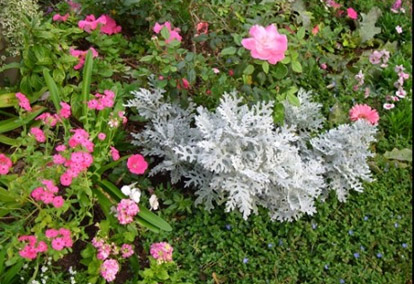 Discounts are placed along roads and paths, fences, on the edges of lawns. They are planted with perennials with decorative leaves and flowers. To keep harmony, is accepted, that the width of the bed should be at least one and a half times the height of the tallest plant, while the length – 5/3 the width of the rebate. When planning rebates, you also need to take into account the rule, that the lowest plants are placed in front, and the higher ones follow them. It is also important to choose the colors of adjacent perennials, if they bloom at the same time. The colors go well together: orange and blue, yellow and purple. The white color is perfect for separating "acrid" color spots
"with myself, e.g.. red and purple. So that the discount is not too uniform, among low pillow perennials you can plant a few slightly taller plants with a narrow habit. Another solution is to alternate groups of low and tall plants, e.g.. different varieties of irises with low cornea, bells and geese.
You can easily select species to be planted, which will bloom in turn, thanks to which the discount will be colorful from spring to autumn. Most often, plants are planted in small groups of several, so that they form a colorful stain during flowering. Plant species with completely different requirements must not be planted side by side. They grow well in beds in dry and sunny places: geese, smagliczka, chaber, and they won't fit there: tawułka, ciemiernik, funkia, who like partial shade. Some plants, whose lush growth and large flowers do not suit relatively small beds and low flower beds, spreads freely on the lawn in groups of several, making groups out of them; they can also grow singly and mark some point in the garden, e.g.. stairs or sitting area. These types of plants belong: from annuals – decorative tobacco (winged tobacco) and sunflower, from biennials – garden bell and mallow and many perennials – tawułka, dalia, funkia, lilia, daylily, lupine persistent, eastern poppy, the delphinium continued, peony, hearts, bedbug, Caucasian omega, deserter, mullein, some tall grass.
Decorative garden – plants
Plants decorating the garden are planted in flowerbeds, in flower beds or on lawns, in groups, and even individually, always, however, according to certain rules. Flowerbeds are regularly scratched surfaces, planted with seasonal flowering plants. They are placed in an open place on the lawn.
In home gardens, they are usually placed between the house and the street, planting with low plants (10…20 cm) and medium-high (20…25 cm), with even growth and flowering time as long as possible. Planes planted with one plant species may be separated from the lawn or other planes by an outline of plants of another species. However, too much variety of shapes and colors should be avoided. In spring, mainly pansies are planted on the flowerbeds (garden violets) and daisies; after flowering, they are replaced with summer and autumn flowering plants, e.g.: begoniami, low dahlias and gilders (chrysanthemums) and geraniums. Annual plants are also worth recommending: Danish aster (summer aster), chinese carnation, snapdragon (bigger snapper), werbena, velvet, petunia, sage, marriage, zinnia, dimorphic library, phlox annual, calendula, portulaka.