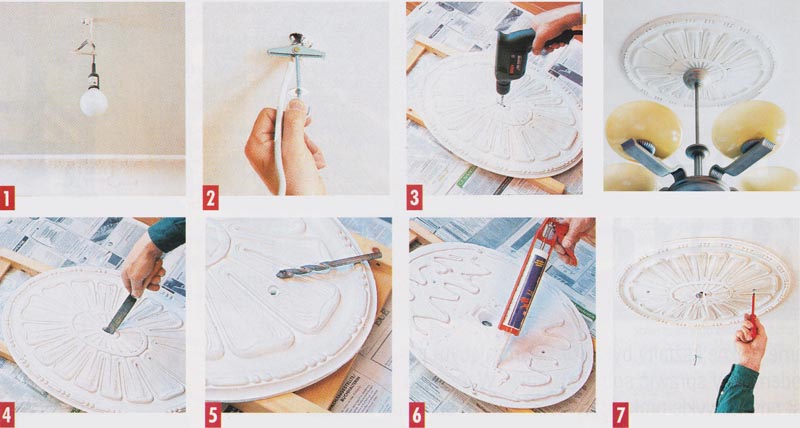 New old-style stucco. Thanks to ready-made decorative elements, it is possible to restore the original appearance of the room.
Ready-made plaster elements. Complementing the old or creating a new stucco, we can use ready-made elements. Such interior decorations are not cheap, but they look stylish. The stucco rosettes are placed on the ceiling on the lighting connection. A patch wedged between the floor and the rosette helps to mark the drilling locations. If parts of stucco decorations are to be replaced, new elements should be made similar to them. Usually, the existing ornaments were covered with many layers of paint, so their outlines are blurred. One or two layers of plaster, applied with a brush, they will make the surfaces of the new stucco to the old.
1. Stucco moldings placed at the junction of walls and ceilings can be easily purchased. There is still a rosette in the middle of the ceiling.
2. A spring pin with fold-out struts allows the lamps to be permanently attached to suspended ceilings.
3. The passage for the electric cable is made by drilling a few holes in the center of the rosette with a drill at low speed.
4. The central hole later widens with the file. Align the rosette with a scraper, that it adheres perfectly to the ceiling.
5. Two holes in diameter 5 mm are used for fixing stucco with screws. We make the recesses for their heads with a drill 8 mm.
6. Mounting glue rollers are applied to the ridge of the plaster rosette. Together with the screws, it creates a strong connection with the ceiling.
7. Screws, depending on the type of ceiling, it is screwed directly into the ceiling beams or into the previously embedded wall plugs.
8. And this is what the renovated stucco looks like: the scenery is complete again. Missing rosette added, a lamp is mounted under it, the light of which will emphasize the intricate drawing of the relief. The lamp does not have to be in an antique style.