The cottage – lanterns.
Small, 30 cm in height, a paper house with glowing windows awakens the dreams of many children.
Our paper house will look best on the windowsill. His light, which creates an atmosphere of cosiness attracts our eyes when we sit in a room in a comfortable armchair and when we return home. For safety reasons, the tiny candle inside this lantern-house should only be lit then, when there is an adult nearby. Unfortunately, the fire engine standing next to the house on the windowsill will not be able to help in the event of a fire. Building such a house can bring a child great joy, especially, that he can do a lot of work on his own. Skipping that fact, that for this task you need scissors and glue the whole thing is no more complicated than making planes or ships from pieces of paper.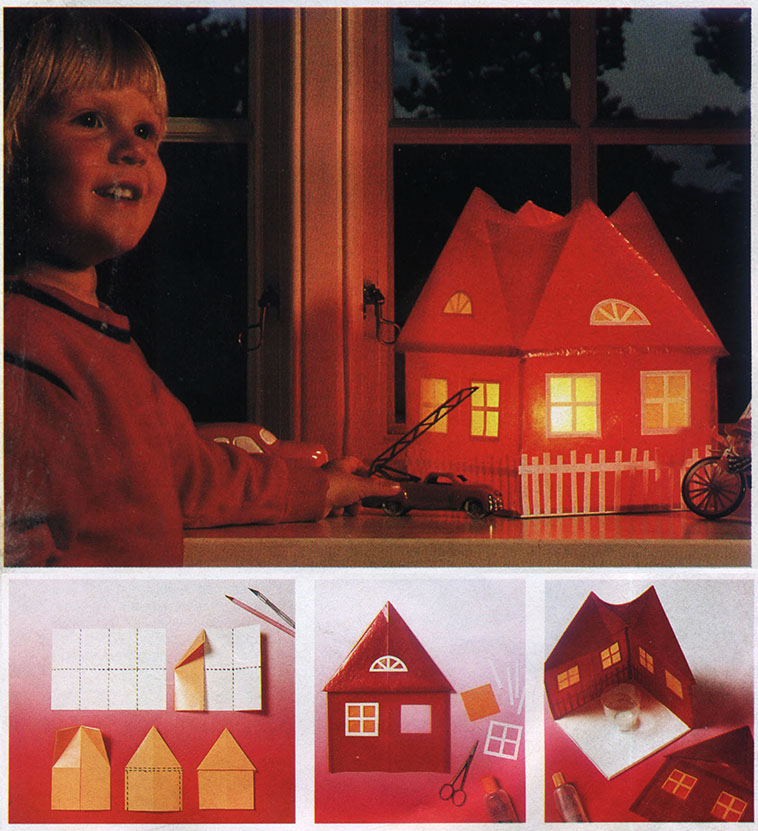 Building a cottage is very easy.
From one A3 sheet of red cardboard, we make four identical side walls of the house, folding them like this, as in the picture. To obtain auxiliary lines marking the center of the page, we bend it once along and twice across. To get the roof eaves of our cottage, zaginamy stromizny dachu 8 mm forward, and the walls in the corners 8 mm inwards. In these places, we glue the walls of the cottage. When needed, lightly trim with scissors. The roof is glued after the upper part of the cardboard elements is folded back. Then the whole thing is placed on the tile that serves as the floor and base. Place a tiny candle in a transparent plastic cup.
An atmospheric light flickers in the cottage, arousing admiration in the eyes of the child.
Here's how to fold a sheet of colored tracing paper. No need to draw any lines, it is enough to make the appropriate folds in advance.
"Glass" and window frames need to be cut slightly larger than the openings in the facade of the house.
Glue the bent side walls of the house to the floor made of a piece of thick cardboard.