Wood as a hobby
Every free moment for modelers, using models of planes or ships to build, there is no need for prompts, where they can find the materials they need. It is different for DIY enthusiasts, who only occasionally find time for their hobbies on winter evenings – making small items of wood. For the construction of nativity scenes, dollhouses and / or Christmas gifts and props are not always easy to get supplies. The most common sources of supply are wood yards and DIY stores. You can also use materials and elements from kits for modellers. Most of the ready-made items – the most frequently turned – can be purchased at home improvement stores . It certainly pays to look everywhere for the materials you need.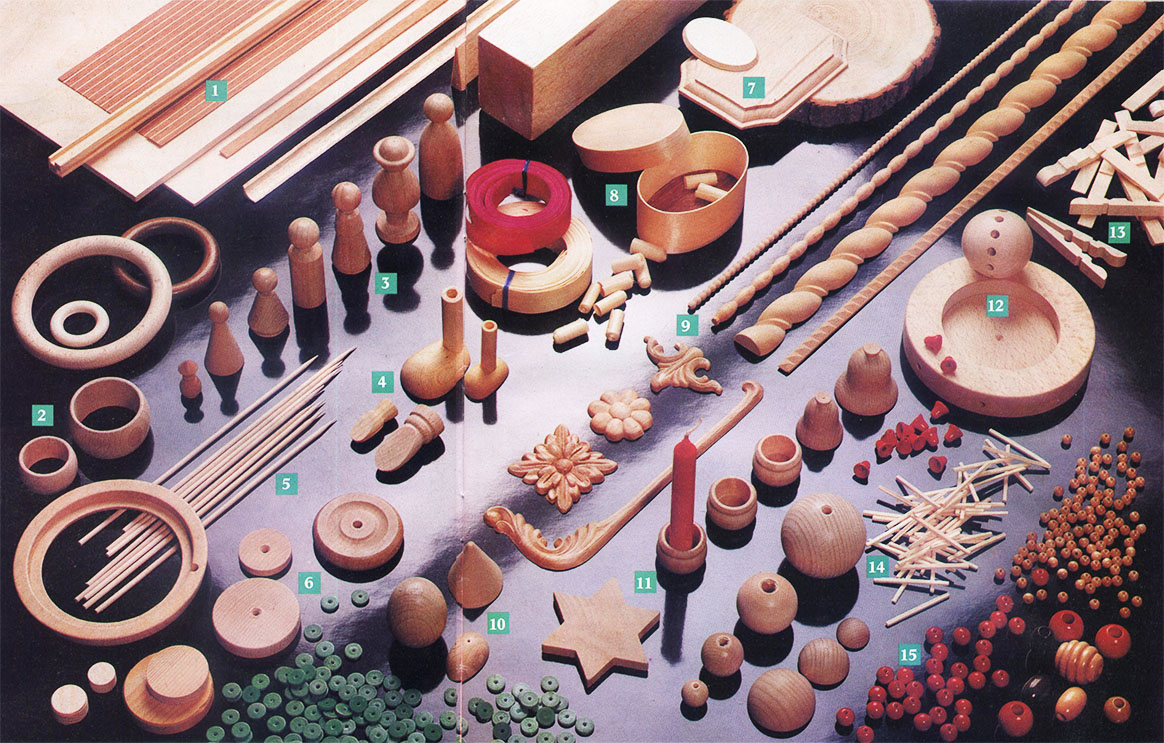 1. Płyty i listwy o rozmiarach odpowiednich dla modelarzy: three-layer beech or birch plywood from thickness 0.6 mm (gluing modeling). In addition to thin balsa tiles, veneers are also often useful for DIY enthusiasts, np. veneer for boat deck. In addition to the angles, square battens, rollers, half rolls, quarter rounds in stores you can also buy special profiled slats with a groove, triangular, pine, beech and balsa.
2. Wooden wheels, round picture frames, hard to do by yourself, better to buy them at the hobby store, DIY enthusiasts.
3.Among the small items made of beech wood, you can find both small pieces for social games, as well as figures with hats and dresses.
4. Puppets can be built not only from special sets, but also from doll parts: enough, cancer, heads, etc..
5. Diameter toothpicks 3 mm can be used as small rollers, but they can be different, versatile applications.
6. Round blocks are made of pine or beech. You can find wooden wheels in stores, and also small, thin blocks in various colors to make wooden accessories.
7. To the pictures, baked copper plates, etc.. wooden plaques or rustic tiles may come in handy.
8. Chipboard boxes you can buy ready-made and only paint them yourself, but you can also make them yourself by buying chips in a roll or tape.
9. Decorative moldings, bars, rosettes can decorate boxes and cases, as well as small furniture.
10. Beech balls can be used as a finish for rollers and bars, and the hemispheres can be used to do various little things.
11. When creating Christmas decorations, you can use stars, candlesticks, beech bells in various sizes.
12. Ready-made elements for the winged wheels of the Christmas pyramid are best found in stores.
13. Clothes pegs have an interesting shape. You can buy them without connections.
14. DIY sticks the size of matches.
15. Wooden balls, hemispheres and beads are available in any size, also painted or varnished.