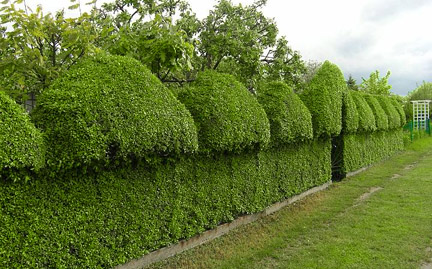 Hedge, just like the lawn, requires careful care, it is, however – undoubtedly – the most beautiful and cheapest fence of any garden. Shrubs of a compact habit, how: Berbers, hawthorn, liguster, cis, that are formable, perfectly protect against dust, the wind, access by humans and animals. Free hedges, unformed, rather decorative than functional, it is made of flowering shrubs: jasmine trees, forsythia or shrubs with variegated leaves: red-leaved barberry, white spruce trees. The evergreen thuja hedges are highly recommended (western thuja), yews, cypresses, junipers. Low hedges separating allotments or parts of a backyard garden are created from: boxwood, privet, lavender, glossy irgi, as well as annual plants: owner (kochii) and low sunflowers. If the task of the hedge is to protect the garden from the wind, it is made of hornbeam, elm, linden trees, thuja and spruce.
Hedge bushes are planted in early spring (deciduous and coniferous species) or in the fall (only deciduous species). Immediately after planting, the deciduous bushes are pruned at a height of 10…15 cm, which guarantees good branching. In the following years, a spring cut is made, during which the shoots are shortened by 5…10 cm. During the summer, only single shoots are cut, extending beyond the line given to the hedge.
Decorative large tree rarely finds a place in the allotment garden; more often conditions for its planting exist in home gardens. On the plot, you can choose trees that do not grow too vigorously. Of the conifers, spruces are worth recommending, from deciduous – magnolie. Flowering shrubs are also valuable and ornamental, e.g.. without lilac or forsythia.