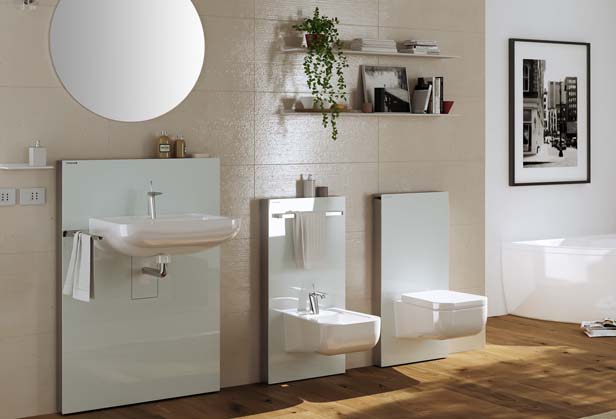 In bathrooms, sanitary ceramics are increasingly attached to the walls. We can choose the methods of such assembly: classic version with the use of sheet metal profiles and professional systems.
When you need to renovate the bathroom, There is never enough good ideas. Especially if she is small, important to rationally use the space. Thanks to wall-mounted installations, we have much greater possibilities of arranging bathroom interiors. Even if it turns out to be necessary to make revolutionary changes in the room layout, which in practice means relocating sewage and water pipes, there is no reason, to abandon the bold concept. Forging furrows in the walls for a new installation, which is a time-consuming and burdensome activity due to the formation of large amounts of dust, it is not necessary for new systems.
Beautiful design, neat details. The mirror shine of the pans makes, that all the elements attached to them seem to float in space. Neat handles support the glass shelves.
Advantages of wall installation. Is it possible to renovate the bathroom without noise, dust and dirt? Even with a wall-mounted installation, this cannot be completely avoided, however, to a large extent, yes. There is no need for exhaustive forging or wall milling, necessary for traditional installations. Thanks to this, we can plan the works in a shorter time and without the troublesome removal of rubble. Another advantage is the considerable flexibility of modern systems to adapt to existing interiors. In practice, the number of variants of bathroom interior design with the help of wall installations (also on very small areas) it is almost unlimited.