How to make a sandbox out of wood yourself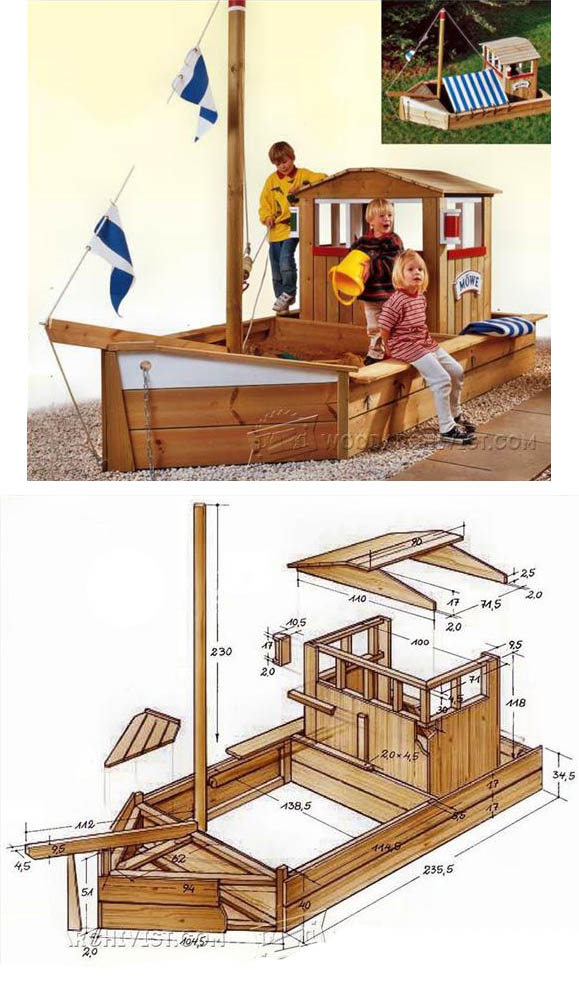 If your child does not have a sandbox yet, you should think about preparing it yourself. Even having little space next to the terrace, in the garden or anywhere around the house you can make a nice play area for your little ones. Small plastic sandboxes nie zawsze się sprawdzają ze względu na wielkość i wygląd. Choosing a wooden sandbox, we will have a nicely arranged element in the garden and a solid sandbox at the same time. How to do it yourself? First of all, we carefully determine the place of its creation.
When planning a larger play area for children in the sand, we will not move it, rather, it will remain there permanently. Second, the type of sandbox and how it will be secured. It is important, due to numerous bacteria, what may be lurking in the sand unprotected from animals. Third, we choose the type of wood, from which the sandbox will be made. Building a sandbox step by step, it is not a difficult or financially demanding endeavor. You need boards of the right length and width, planed and ground without sharp and sharp edges. Once we have them, we can impregnate them and then paint them in the selected color.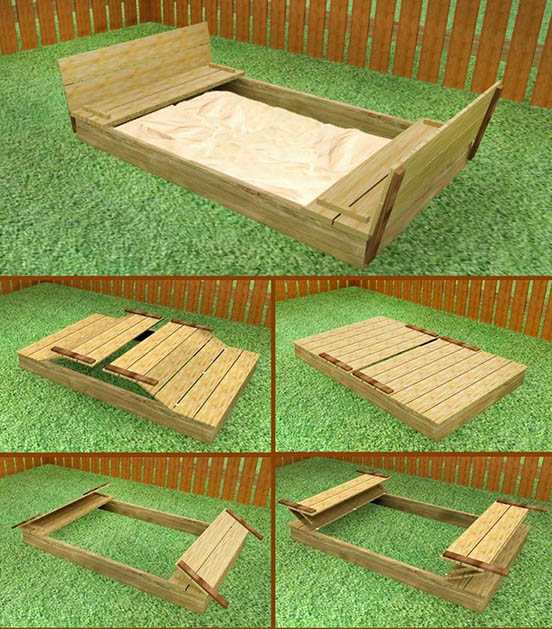 We leave the boards to dry, usually they are enough 24 hours and during this time we are preparing the area where the sandbox will be built. We mark it, enough for this 4 wooden stakes and a string and then we take out the soil to a depth of up to 10 cm maximum. Align the bottom and arrange a special fabric- geo-fiber, which is needed to protect the sand from insects. The material should adhere loosely to the substrate, to allow rainwater to run off. Installation of previously prepared boards, It looks like this, that we arrange them in a square and connect them with the help of angles attached to the boards with appropriately selected screws.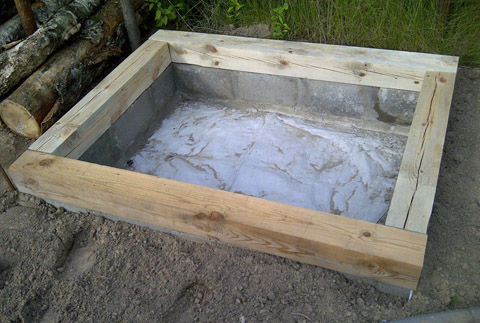 If the whole thing is stable, it remains to fill it with sand. Sand level najlepiej, if it is lower than the deck level by a few centimeters at most to 10. We buy sand, of course, special, soft - good to play with and safe for the child, not containing coarse and sharp grains. The sandbox construction instructions presented here are one of many. It is simple and classic, ale jeśli mamy większe oczekiwania można rozważyć wykonanie wooden sandbox with a roof and benches.
Safe sandboxes with approval
Sandbox in the playground to jedno z tych miejsc, where young children spend their time most willingly. Grandmothers, locks, tunnels are great fun for hours. A jeśli ma się dodatkowo sand toy set to frajda jest tym większa. Spending time in this way is an opportunity for toddlers to develop manual skills. Even, if our child does not have a companion to build sand buildings together, he can also take care of himself. The additional attractions provided are sure to be interesting. Mowa o sandbox with a cottage. It is not just about pouring sand with a spatula, but a place where you can arrange additional space. Girls will surely like this option, to play at home, with dolls and other accessories.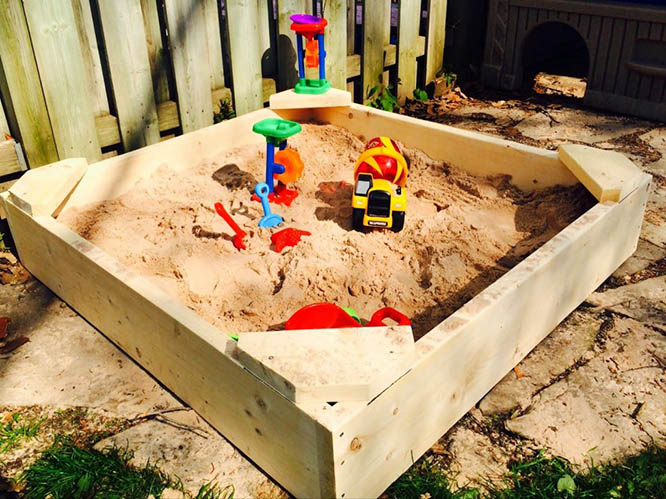 Designing a small, home playground depends on the age of the child. Young children must have a safe space to play. It is obvious, that they most often play under the supervision of adults, however, sometimes even the slightest moment of inattention can result, that the baby will put some sand in his mouth. Little-year-olds love to taste everything, explore the world from the digestive tract. Therefore, if we want to be sure, it is safe for them, niech miejscem dziecięcego baraszkowania będzie plastic sandbox with lid.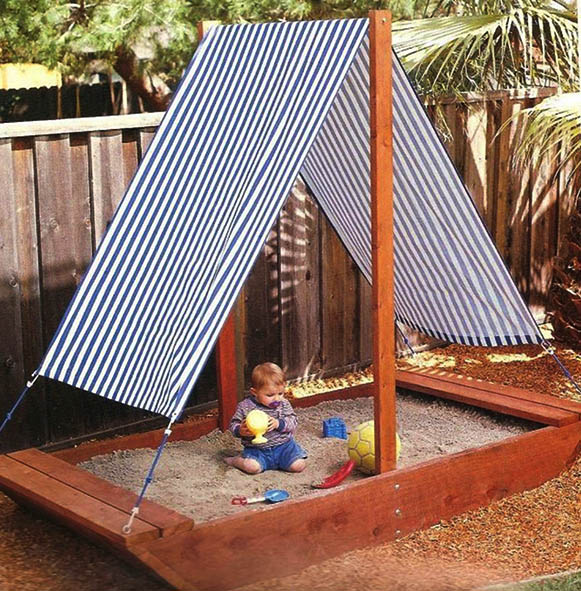 You can make a sandbox from wood yourself i do jej przykrywania używać szczelnego przykrycia z folii czy też drewna. Bardzo solidne są log sandboxes. The space prepared in this way for children will be a safe place and at the same time will look nice in the home garden. When deciding to make it, choose places, which during the greatest sunshine, will be shaded- behind the house, in the shade of a tree. The location of the sandbox allows you to catch some sun in the morning and afternoon, when the air is already warm, especially in summer, let a shadow surround her. When there is no such place around the house, najlepiej wybrać sandbox with sunshade. He will always provide shade and, in addition, let's think about benches, so that the kids can sit down freely, not in the sand.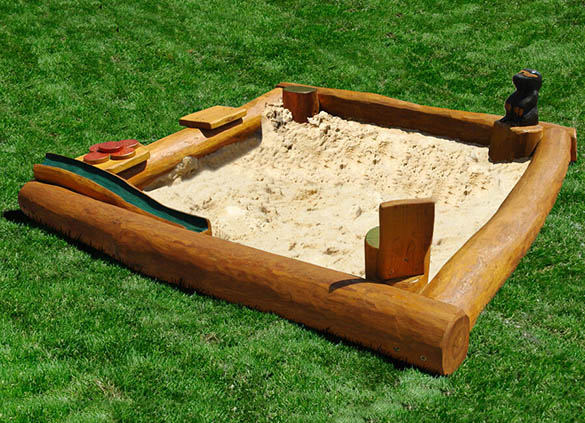 For more children, let's plan a large sandbox, dla jednego lub dwojga wystarcza small turtle-shaped sandbox– e.g. You can even use it, if you live in a block of flats, putting on the balcony or at home on the terrace. Sand prices nie są wysokie. Let's choose the bright and small one.