How to make Christmas decorations
DIY Christmas paper toys.
Not bright supermarket baubles, nor lights flashing in different colors, nor can expensive designer Christmas tree decoration kits compare to handmade decorations.
Of course, such decorations from the supermarket will make, that the Christmas tree will be bright, modernly furnished, but it is unlikely, to be able to bear the New Year's mood so joyfully, like decorations made by yourself.
There are many ways to make Christmas decorations, but the simplest, the most attractive and time-consuming decorations are made of paper. To create them, you may need very little improvised materials, which are kept by every housewife at home. Get a little patience and wings for a creative flight of your imagination.
Christmas balls
What is the most common Christmas tree decoration? Of course the baubles! You can always buy glass or plastic in the store, but we will try to make them out of thick paper. This includes the colored cardboard, old postcards and unnecessary magazine covers. Christmas balls made of colored cardboard, monophonic, they will give a Christmas tree or a room, you want to decorate with a uniform style, and multi-colored balls will bring an atmosphere of celebration, magic and winter fairy tales.
Before you sit down, to make a new toy, prepare:
thick paper;
use old magazines, cardboard boxes or candy boxes with bright pictures;
glue, preferably PVA;
scissors;
– a compass or a template to make a circle, getting an even circle.
Take the cardboard and make twenty-one identical circles on it, and then cut them with scissors. Each wheel should be assembled as follows: bend the circle in half twice, on both sides, then unfold, which will scratch the center of the circle.
Re-fold only one side, so that the edge of the circle is exactly along the intended center. Bend both sides again, to get a triangle. In one of the twenty circles, cut out this triangle, it will serve as a kind of template for the remaining circles. All you have to do is superimpose the triangle over the rest of the circles, outline it and bend the edges of the wheels outwards along.
Take the first ten circles and glue them on the strip, alternately: five down – five up. Glue the resulting strip to the ring, which will serve as the basis for the toy.
Divide the remaining ten by five and glue them in a circle. By gluing them together, you get two caps.
The top and bottom covers should be glued to the base in the same way. Think about the loop, on which you can hang the toy.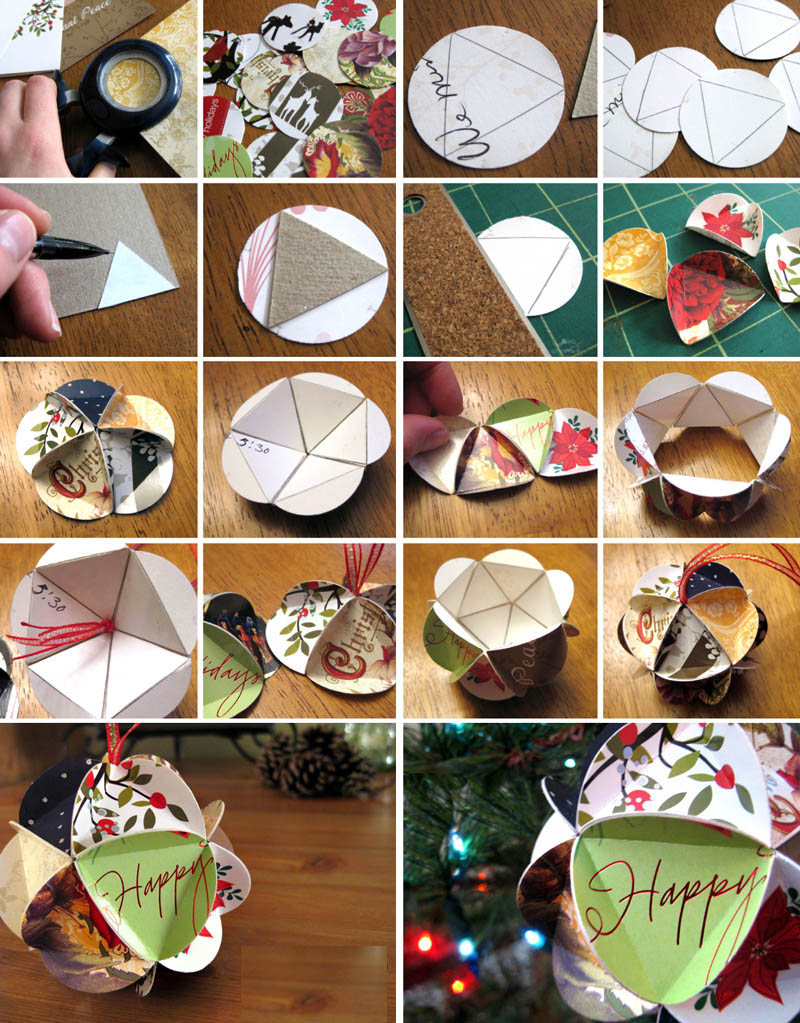 DIY Christmas ball made of thick paper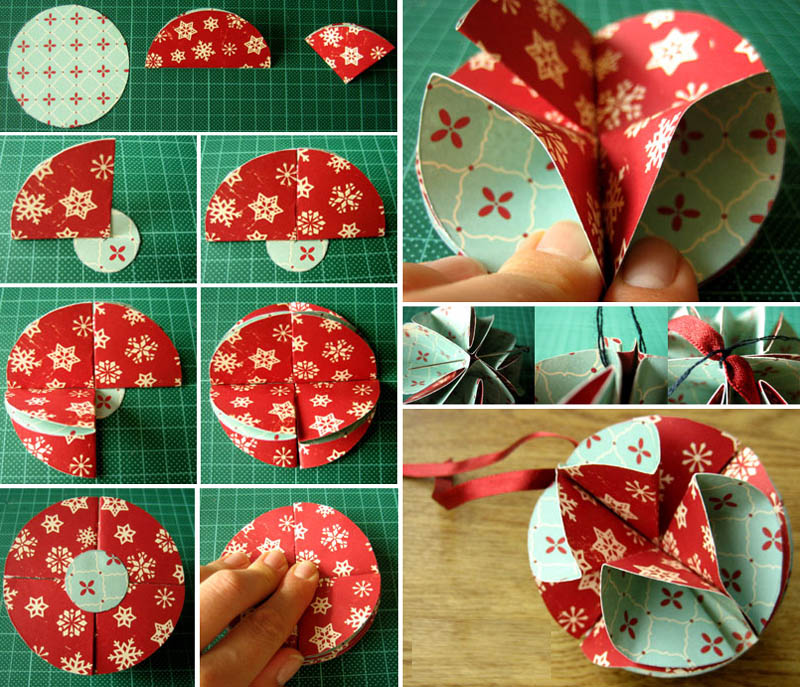 A simple Christmas ball for a Christmas tree made of paper with your own hands: preparation for the New Year with children
Children can easily help you make such a New Year's toy: you will need scissors, colored paper, wrapping ribbons.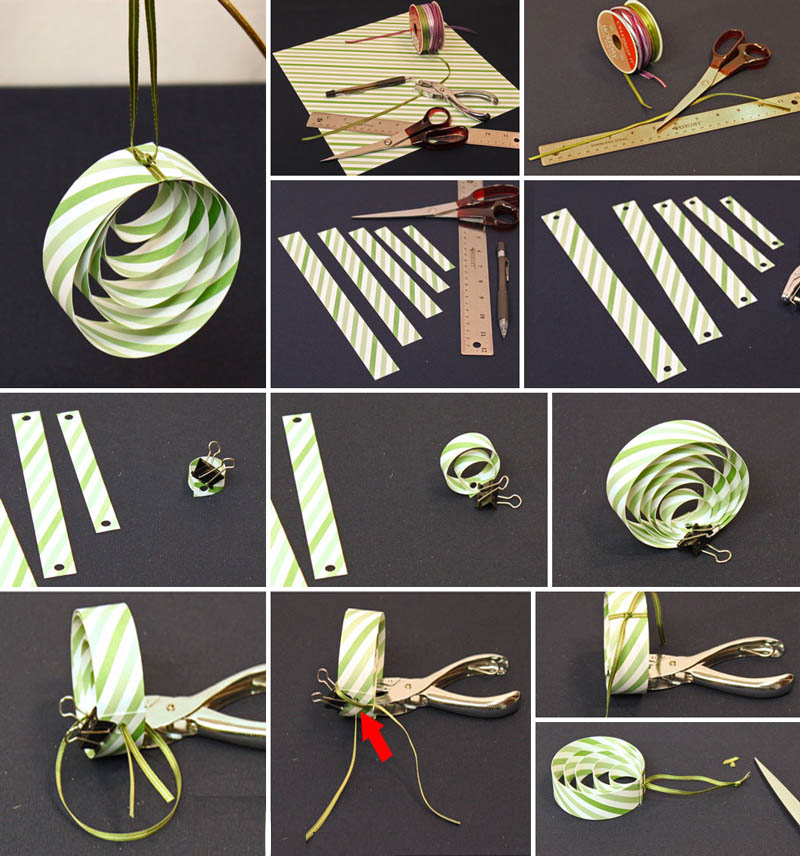 A simple ball-shaped Christmas tree ornament: DIY paper decorations for the Christmas tree.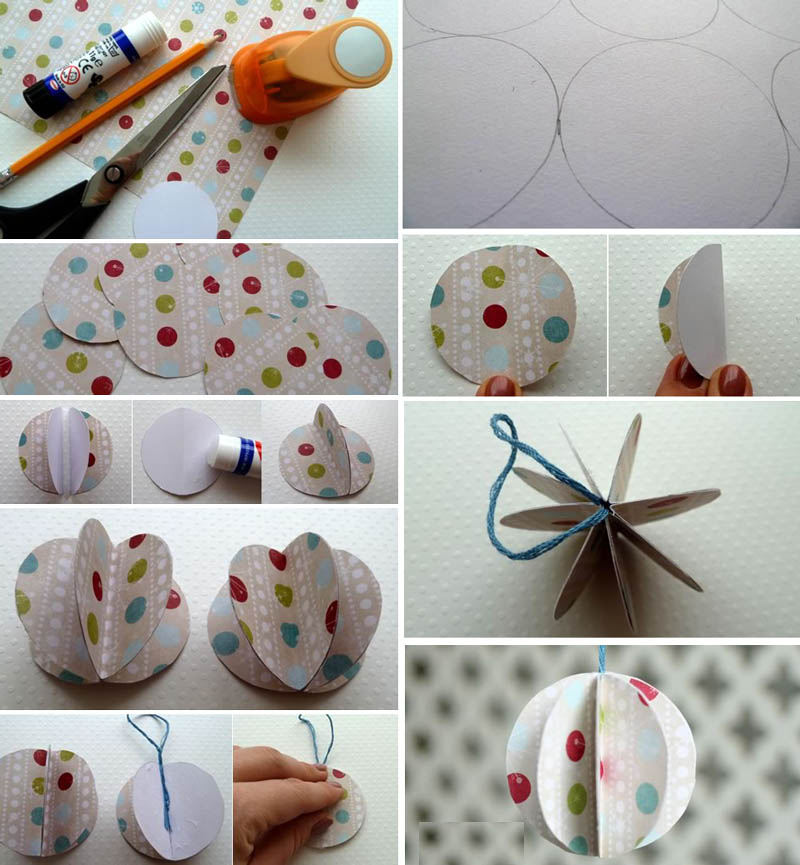 Simple paper Christmas tree decorations for DIY: experimenting with shape.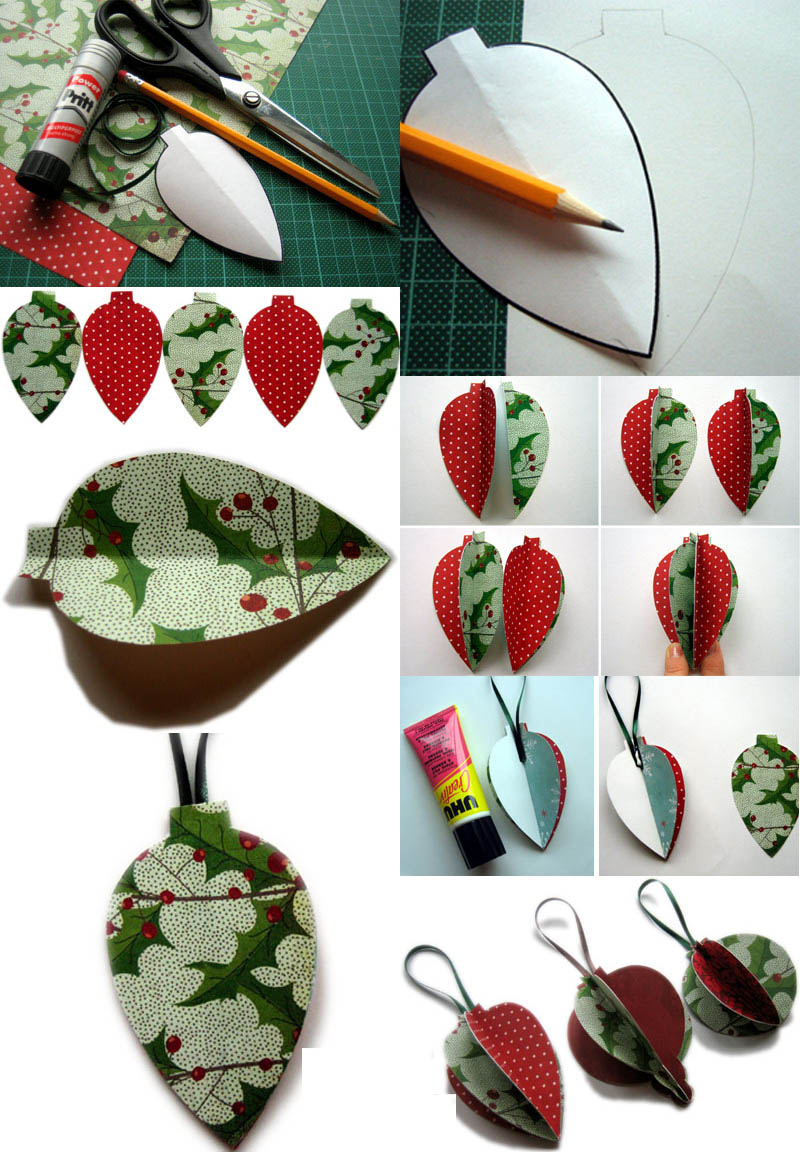 do it yourself, volumetric paper ball for the Christmas tree: step by step instructions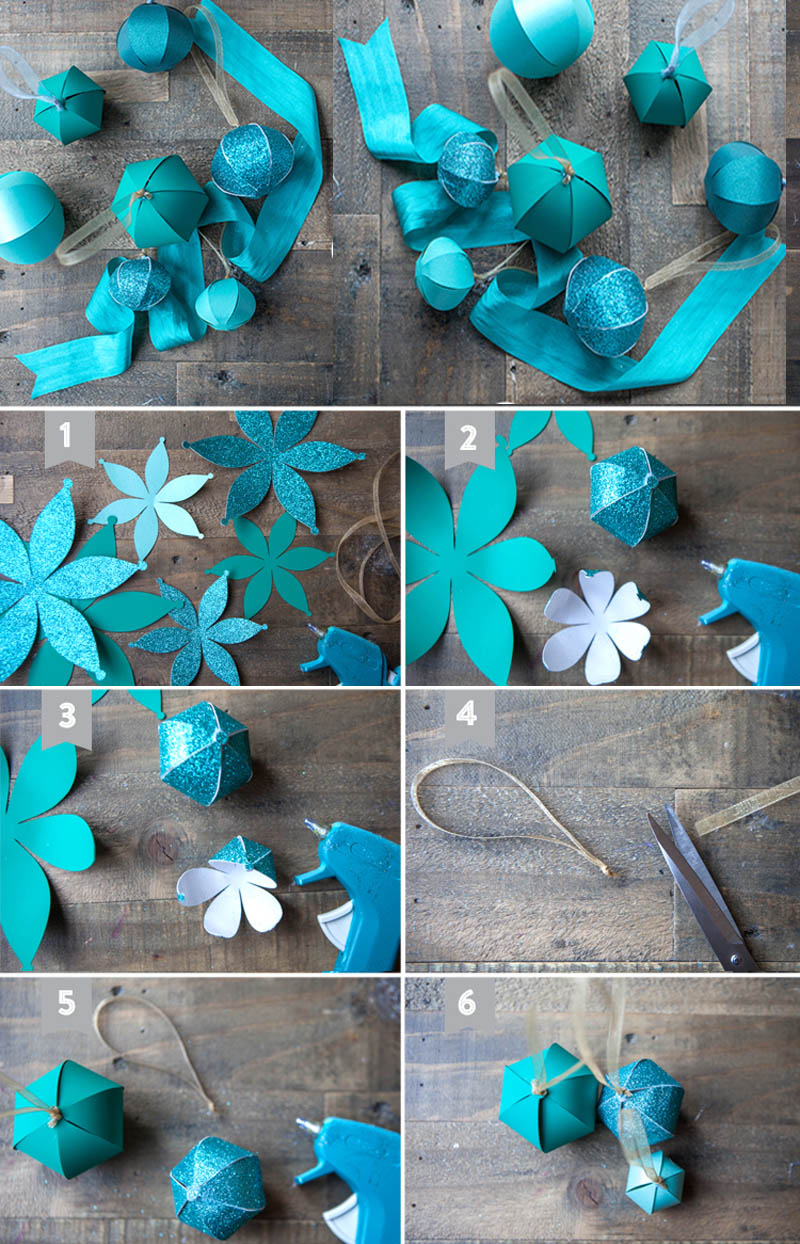 DIY Christmas ball made of paper circles: gluing experiment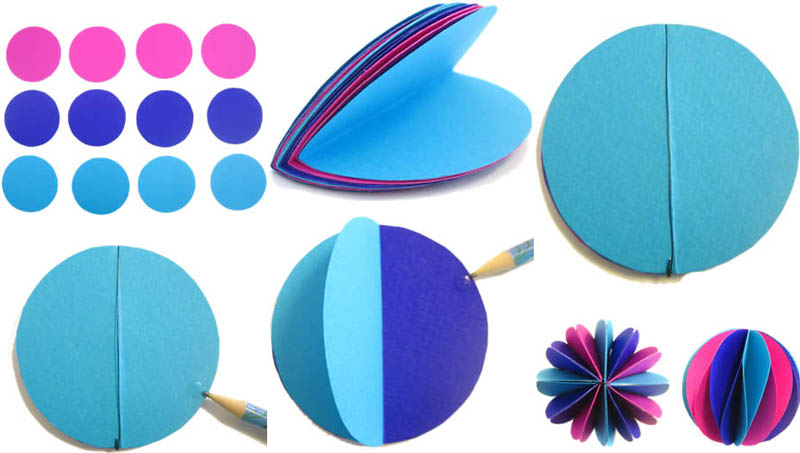 DIY Christmas ball made of paper strips: step by step instructions with photo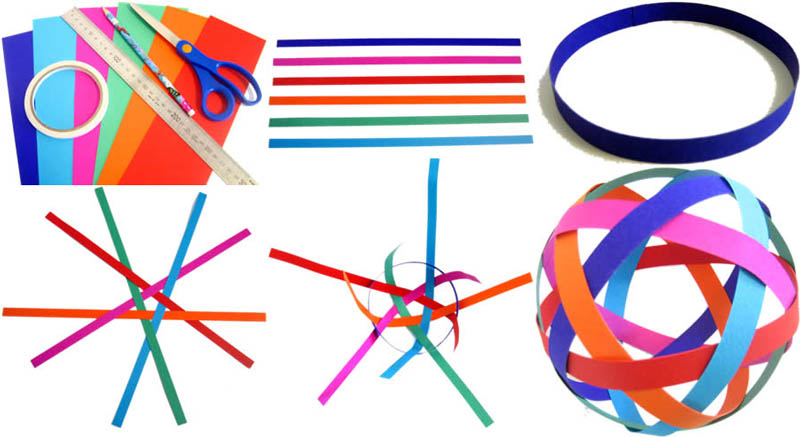 Paper toy for the Christmas tree: Paper ball for self-assembly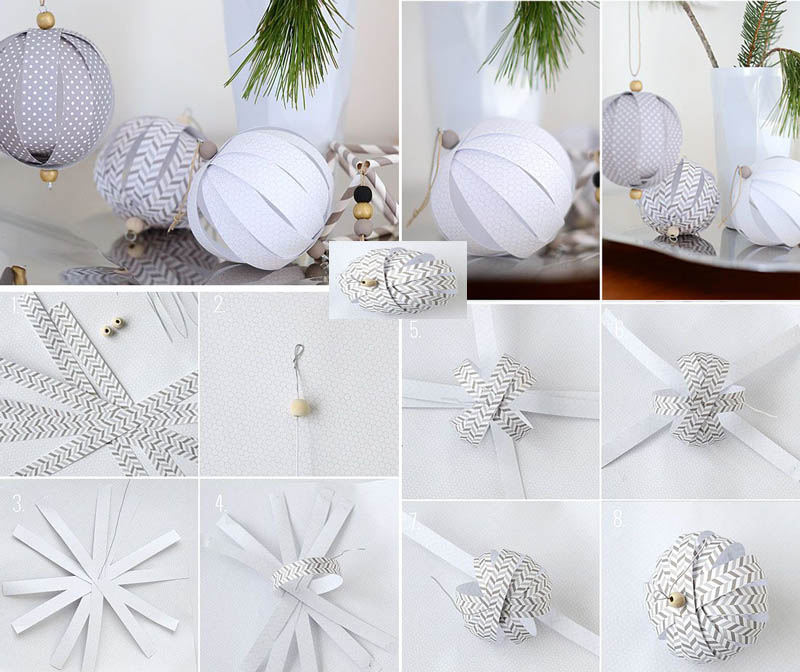 A Christmas ball made of paper strings: kurs ze zdjęciem krok po kroku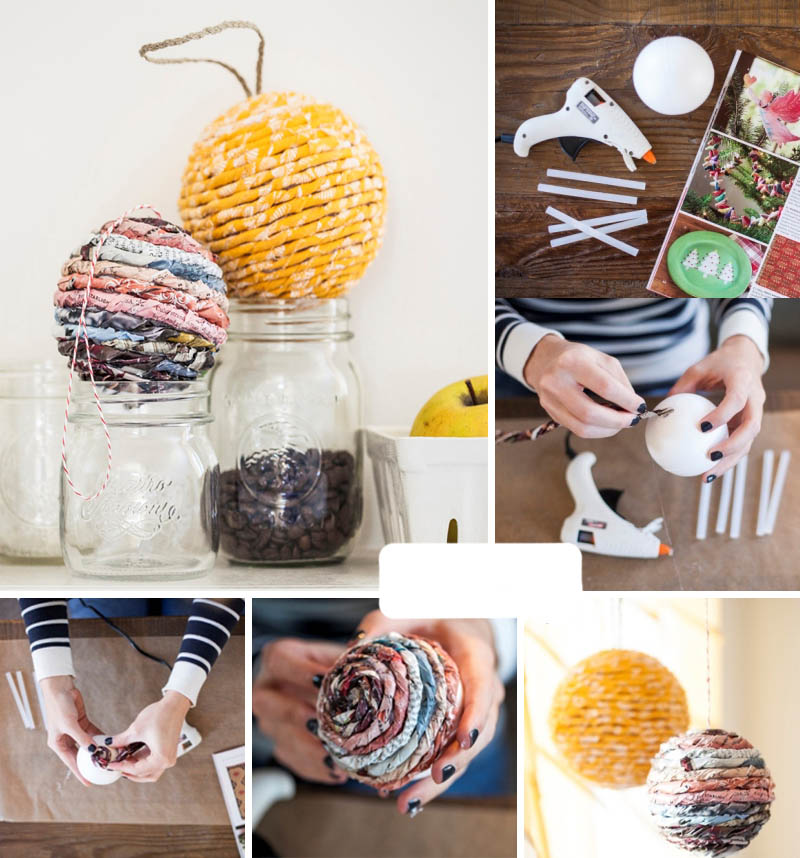 Christmas paper ball with decoupage technique: creating Christmas tree toys with your own hands
Christmas trees: decorating the Christmas tree with paper ornaments
A great idea for a Christmas tree decoration is a miniature paper Christmas tree. You can make it from thick paper or old postcards, and you can hang your masterpiece on a simple thread.