How to make a country bed.
Classic form and traditional colors with motifs make up the unique charm of our bed. With some effort, you can make them yourself – please trust our advice.
If we sit at work all day surrounded by chromium-nickel, glass and enamel, in functionally furnished rooms, we want to come back to a cozy apartment. A handyman can arrange them according to his own idea, for he can do many things himself. Even solid, a stylized bed straight from a country cottage, in which you sleep perfectly well.
In any home improvement store, you can find the necessary accessories and painting materials for wood. The technique of painting on wood is described on the following pages.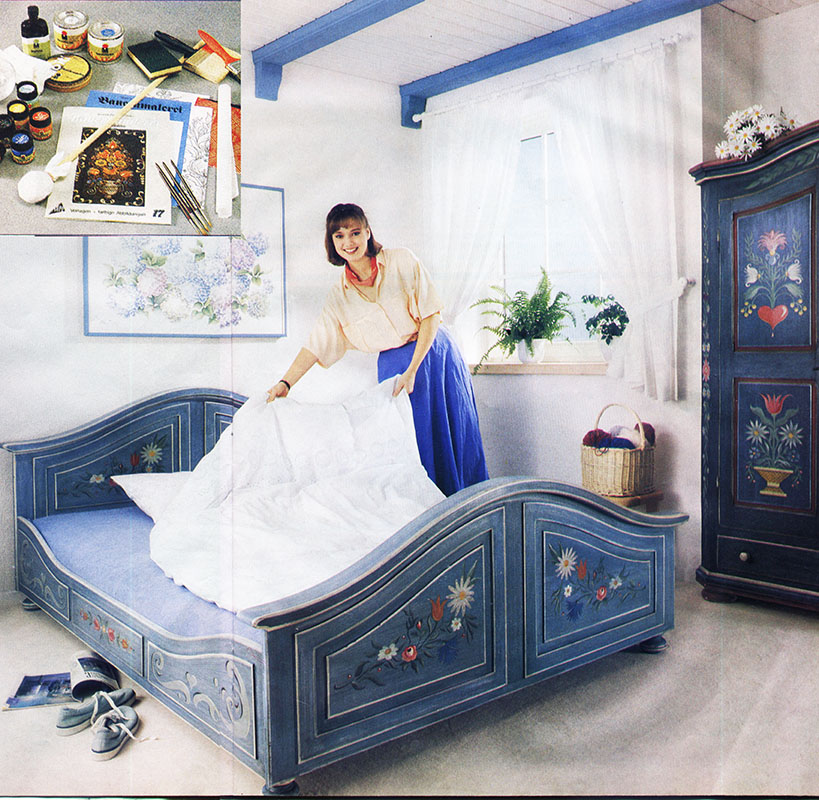 The material, from which the main elements of the bed are made, is thick on 19 mm blockboard covered with pine wood veneer. The arched ends of the high plates at the front and back of the bed are made of glued pine wood (glued board) thick 30 mm. Decorative frames and raised ornaments are made of thick pine wood plywood 5 mm. The truss is 28 knotless pine slats (4×2 cm) nailed to thick tape. The shape and form of the side elements and the front of the bed can be designed by yourself or you can use a ready-made scale project 1:1. The template for cutting out curves is best cut out of plywood, because it will be needed six times : twice on the blockboard and four times on the upper edges on the glued board. The elements decorating our "dream furniture" are made of plywood. These supposedly unnecessary elements of our comfortable bed require a bit more work, but they determine the nature of our bedroom.