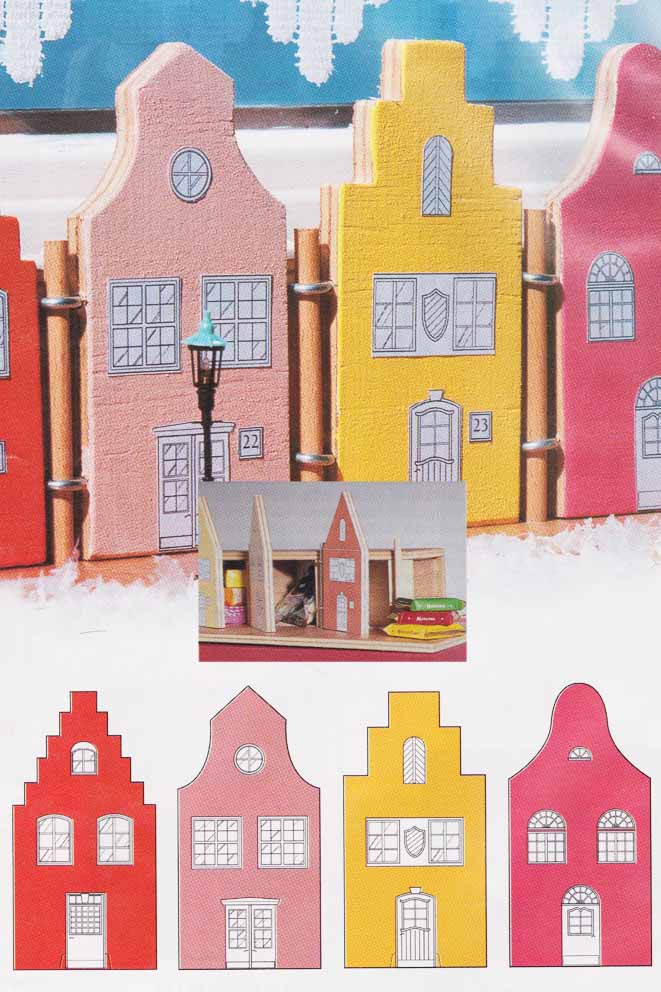 The appearance itself shows how many possibilities are hidden in such an Advent calendar. It will definitely hold lots of chocolate and gifts, and before that it will require a lot of work and quite sophisticated technical solutions, which in total is a guarantee, that it will not end up in the garbage after Christmas, but will be well received in the nursery.
All sweet morsels should be well packaged, because our calendar is not airtight. The patterns shown here represent the doors and windows of the fronts of houses to scale. In order to enlarge to original size, use the zoom option on the copier. It is advisable to use all the items shown here, to avoid monotony of identical facades.
Our street of historic tenement houses is made up of 24 buildings, so it would run across the whole children's room, if we hadn't split it into two halves. Each consists of one carrier plate, back panel, covers, thirteen side walls, thirteen door stops and twelve doors. Each side opens on one side (smooth!) pin bar, which is permanently glued to the support plate.
The "building material" of our Advent calendar is plywood. For aesthetic reasons. only the door stoppers are made of pine slats.
After finishing work, we can enjoy not only our work, but also with sweets hidden in houses – evading daily, from 1 do 24 of December, façade of the next one and thus counting down the time until Christmas Eve.