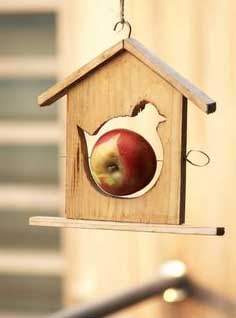 Winter garden, displaying arranged decorations with delicate colors attracts kind eyes. It is enough to place ceramic balls in it, wicker picket fence or frost protection to protect climbing roses. The potted Christmas tree is decorated only with glittering ice stars. It will be posted on Christmas (as well as a rose covered with branches) apples and nuts for birds. Dark brown braided fence, green and blue ceramic balls and yellow witch hazel flowers with golden rose balls.
Apple house for birds. In winter, it's not easy to get drinks. After ponds and other natural bird drinkers freeze, our flying friends must quench their thirst by pecking berries and fruit. Therefore, decorative apple houses are in great demand. They are built of pine wood. With a hole saw, you can cut holes for apples of the right size. Then holes are drilled in the plate, so that on both sides of it you can insert skewers used for baking skewers, and here they serve as apple handles. Finally, the laths that make up the roof and plinth are trimmed, you nail them firmly, and the wood is soaked with varnish on both sides. The apple house can be combined with a classic feeder. The construction of the small apple house is the same as the large one. If anyone is careful, that round holes look too cliche, can draw other shapes and cut them with a jigsaw.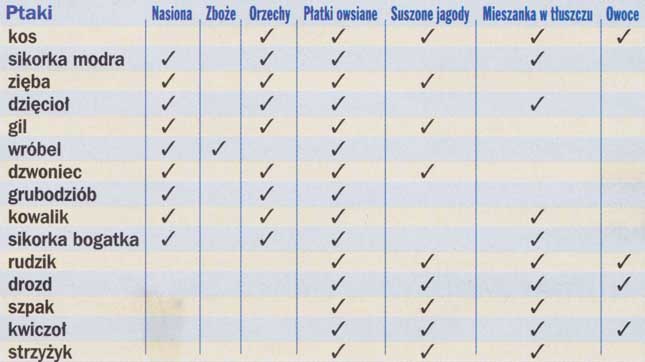 Bird food recipe.
Bread crumbs and food scraps are not good food for birds. The grains are better, Oatmeal, bran, hemp, mak, mustard seeds, flax seeds, berries, raisins and apples. For grain-eating birds, mixtures are produced consisting of w 2/3 from poppy seeds and v 1/3 from poppy and hemp, immersed in lard and oil. Birds that eat soft food need a complex mixture in 2/3 from bran and in 1/3 of oatmeal, as well as lard and oil.