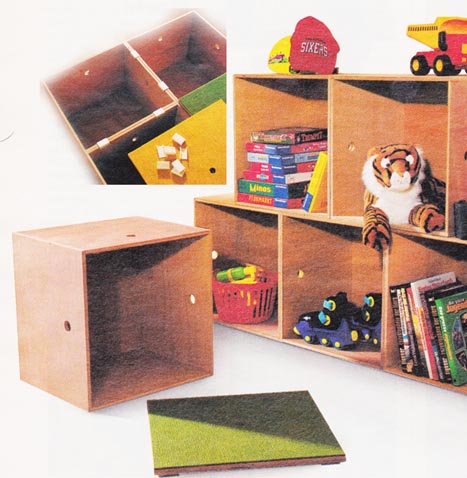 Even the youngest ones can build their own shelves from plywood boxes. Individual boxes
can be permanently connected with clips of a length 3 cm, what a plastic conduit you bought from a chemical supply store was cut into.
In an average children's room, you can almost completely do without the usual furniture, if at least a dozen plywood boxes shown here are built. These boxes have dimensions 50 x 50 cm, height 40 cm and are provided with a thick one, durable cover. By design, they should be easy to carry. So that you can conveniently grab such a box and carry it, large holes have been made in all four walls, acting as handles. In addition, one handle was made inside the covers of the boxes. Thanks to them, it will be easy to fill or empty the box placed, for example, in the middle of the platform.
The extremely simple structure of these boxes is related to their diverse and versatile use. You can put them together as an open bookcase, in a moment they can become elements of the defensive wall of a knight's castle, and shortly thereafter, create a play surface area. To, which the children like the most about the chests shown here, are the vivid colors of carpet flooring, which their covers have been taped on.
The surface of the platform creates a colorful patchwork, made of multi-colored pieces of carpet. Children can determine the width and length of the platform themselves. Many different things can be stored inside the boxes.