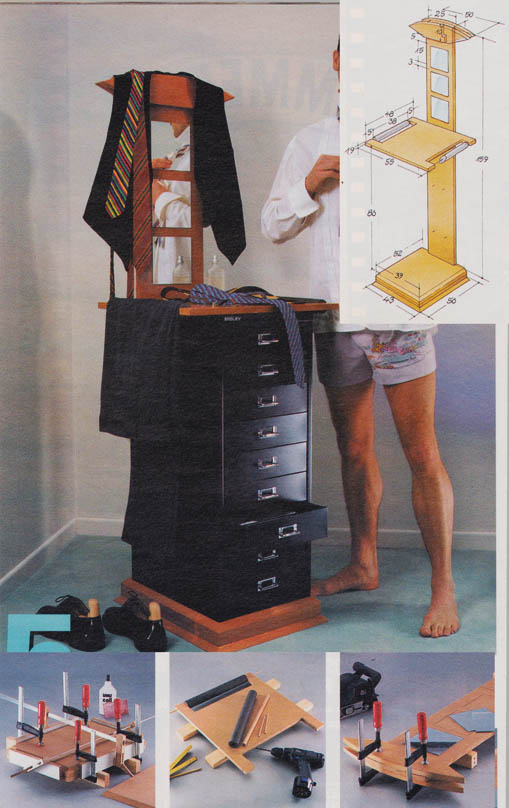 Metal cabinet in the bedroom? Why not actually! It will definitely come in handy. Our proposal is the male version of the chest of drawers. Metal cabinet (black) received a plinth, laid on a base of MDF with a thickness 19 mm. The upper part of the chest of drawers can be used to hang vests or jackets, on the side there are hangers for trousers. There will also be space in the cabinet, for example, for socks, handkerchiefs and other small items.
The plinth is made of four MDF boards, with the bottom and top plates cut at an angle 45 degrees. The upper part of the chest of drawers consists of a back plate, glued to the top plate. Notches were made in the outer edges on the right and left side of the tabletop. In the center of the cutouts, two diameter holes were made 10 mm, into which round bars are inserted. The rods are covered with polyurethane covers intended for the insulation of central heating pipes, in diameter 10 mm. They will serve as hangers for pants, and at the same time as a decorative technical detail of a chest of drawers. The upper surface of the back wall has a semicircular shape, for easy hanging of vests or jackets. It was formed with two properly cut elements. All combined in one!
Gluing together three plinth upper plates of the same size. Spacers made of residual material facilitate fixing of the boards.
The cutouts in the top plate will be used to make a trouser hanger. Slide the pipe lagging over the rods placed in the holes.
Glue the two semicircular elements to the back wall of the chest of drawers with fastening plates. After varnishing, glue the mirror tiles.