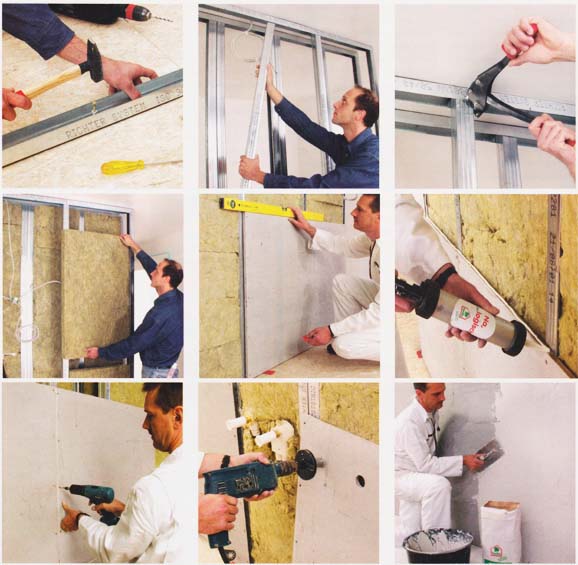 1. The lower profiles are attached to the ground with dowels. Before that, the bottom part of the section was glued with an insulating strip. Then…
2. …vertical and ceiling profiles are assumed, and then additional vertical profiles, which stiffen the double frame structure.
3. The metal parts are interconnected with clamping tongs, forming a form fit. As a result, screws are not needed.
4. The empty space between the plates was used for the routing of electric cables and water supply. Mineral wool mats act as acoustic insulation.
5. The partition wall was covered with cement building boards. Laying was started from the bottom, checking the board horizontally and vertically. Small wedges allow…
6. …place the hob. Then holes were drilled and the boards were screwed to the profiles. After dusting off the edges of the board, a layer of glue is applied, which binds better to a clean surface.
7. The plates in the next row are shifted, that the welds do not cross each other. The vertical joint must always be on the profile. After placing and pressing the plate…
8. …it is screwed to the profile. A diamond saw blade is used to cut hard slabs, and carbide blades for drilling holes.
9. If the partition wall is later covered with noble plaster, then, after the glue connecting the boards has dried, the mass is applied to it…
The plates are attached to the metal structure from bottom to top. The first row must be carefully aligned – vertically and horizontally, possibly with small wedges. The boards are glued to each other and screwed to the metal profiles. The vertical board joints must run on the profiles. To avoid cross joints, individual rows are mutually shifted. The surface of the boards, that are not exposed to direct water, it is enough to prime before laying the tiles and seal the edge of the joint between the floor and the wall.