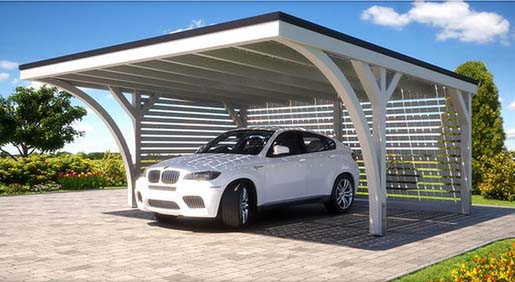 Pretty practical way, although not much cheaper, parking is directly under the carport or in a garage located under the extended roof of a residential building. Due to the rather small size of the plot, the car is parked close to the house doors and windows. The exhaust fumes from the starting engine can then be very troublesome; who wants to avoid this should place the car as far away from the vents as possible. If the garage is built directly next to the house, then its roof can be used as a terrace for the apartment, located on the first floor.
A carport as an alternative
The need for a second car is becoming more and more common in many families. Because, sooner or later, you need to consider, where a second vehicle could be located. Optically, the best and simplest option is to build a double garage. However, this is often impossible due to the small size of the lot, not to mention it, that it is the most expensive solution. The combination is much more cost-effective: single garage plus a roof over the access road. The shelter can be quickly installed and disassembled, and its filigree structure can be easily adapted to the existing buildings. Secondly, it is the easiest and cheapest way to protect your car from the sun, rain and snow. The fact is not without significance, that this type of structure can be assembled by yourself.
If he puts a mat next to the shelter, a lockable outhouse for tools, auto parts and gardening equipment, the whole thing fulfills the same function as an ordinary garage.