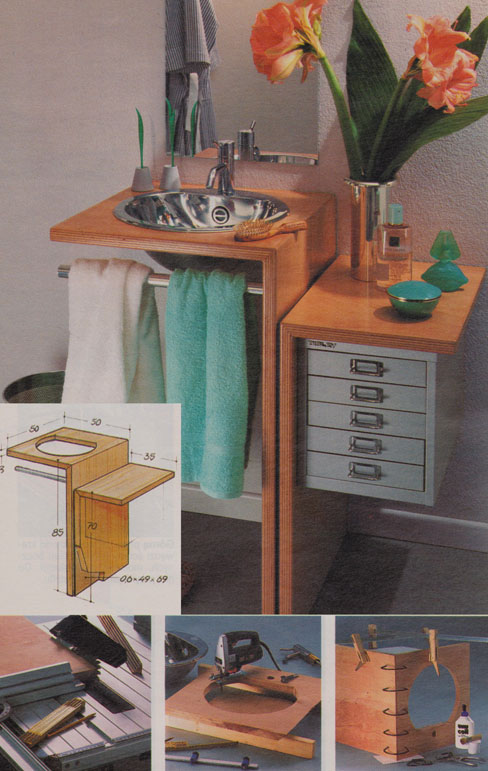 Top plates and side walls (multiplex, 30 mm) Cut both elements of the washbasin at an angle with a table saw or hand saw.
We mark the shape of the opening for the washbasin. More reliable mounting of the fittings will be ensured by inserting it through the top plate.
Glue the boards together and fix them with clamps. The rectangular piece of the plate ensures that both elements fit perfectly.
The metal cabinets are designed very simply – narrow rectangular forms, lots of little drawers, interesting handles with windows for labeling the drawers, all of sheet steel, carefully finished, interestingly varnished. And on top of that, that metallic sound accompanying drawers sliding in and out. They were actually meant to be offices. It seemed to us, however, that they are also perfect for furniture for living rooms. Their unquestionable advantage is even the extremely comfortable and handy drawers. It is enough to enclose these cabinets with some kind of furniture.
The idea is to use a metal cabinet as part of the washbasin. There are lots of little things in every bathroom, with whom something needs to be done. The top slabs and side walls were cut at an angle from the beech multiplex slab, then carefully glued. In the board of the higher element, we used a jigsaw to cut a cutout for the sink recessed into the top. To separate the two elements optically, we put a thin plywood board between them 6 mm (the edge is painted black). It is shifted back by approx. 1 cm deeper into the furniture and screwed with the side walls.
Sheet steel wardrobe (aluminum color, silver) we turned from the inside before (after removing the drawers) with wash basin elements.