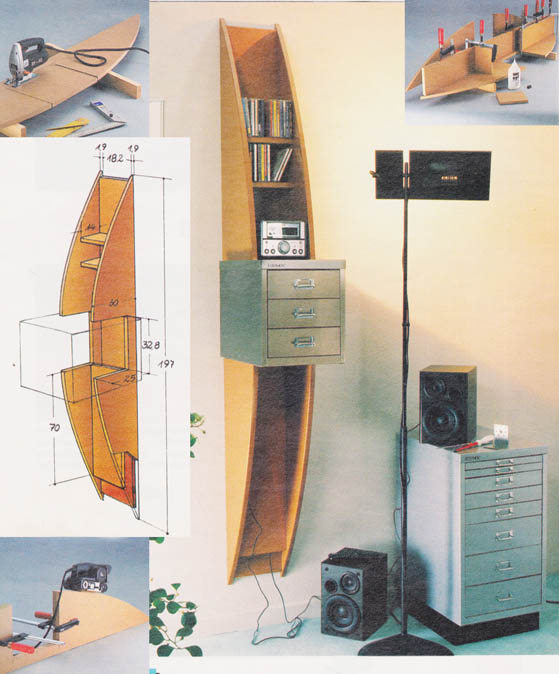 There are always a lot of little things to do around a hi-fi tower – cassettes, wires, headphones. All these items could be stored in a metal cabinet. The smallest of the metal cabinets turned out to be the best for our hi-fi equipment rack – we mounted it in the shelves of the bookcase, adapted to the dimensions of modern mini towers. Thanks to it, a bookcase with small and proportional dimensions pleases the eyes with its shape.
Due to the semicircular shape of the shelf, MDF board is the best choice for its production (thickness 19 mm). Side walls (The arches are cut out similarly to the hanger arch from the example 3., marking it with a longitudinal caliper) include the back wall, can be supplemented with CD shelves at the bottom and top. For embedding a metal cabinet (finished with a colorless varnish) there are two rectangular cutouts in the side walls of the shelf. To hide the cable entries, we fitted the second plate into the body, attached in front of the back plate. Cables for loudspeakers and cables for connecting to electricity can be led through the empty space between the plates. At the end, the body of the rack is covered with two or three layers of transparent varnish.
Cut rectangular cutouts in the side walls with a jigsaw, matched to the dimensions of the side walls of the metal cabinet.
The edges of the cut of the side walls are rounded with a milling machine, and then we process it with a belt grinder.
Glue the shelves of the rack and the cable cover to one of the side walls. Then we glue the second wall, putting it on like a cover.