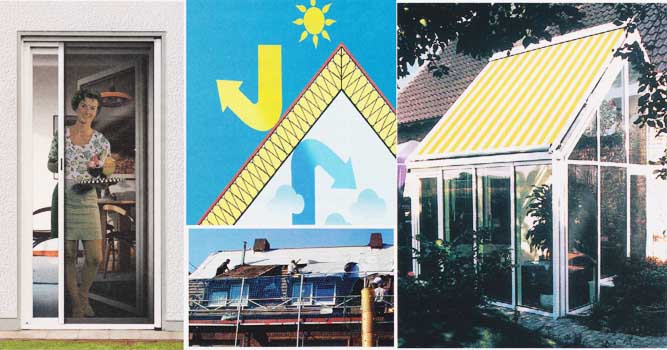 Aesthetic protection against insects. A delicate roller blind effectively protects the apartment against all kinds of insects. You can install it yourself and adjust it to the width of the balcony door. The fine mesh ensures good visibility. In order to ensure tightness, the roller shutter has guides, secured with fine bristles.
Roller shutter dimensions: maximum 125 x 220 cm. Available in white or brown (color of the cassette and guides).
Protective layer reflecting the sun's rays. In attic apartments without good thermal insulation, it is terribly hot on hot days. Excessive heating of the roof surface is prevented by good insulation and a new type of tape called Delta-Solar. As long as bitumen roofing felt, brick or wood has a low row reflectivity 8%, this new insulating tape is bouncing back – according to the manufacturer – until 60% warm. This improves the climate in the attic rooms and makes it easier to use them during the hottest days of summer.
The external awning is more effective than the internal one, which is why special covers have been produced for small conservatories. Cassette, in which the awning is placed, can be purchased in two standard colors, just like the guides, while the cover material is available in over 100 patterns.
Four walls and only two supports. The high cost of building a basement prompts construction companies to look for solutions to reduce expenses. Here is one of them: The basement ceiling rests on only two supports and does not require any expensive ones, internal load-bearing walls. The investor may start the development of the basement only several years after the completion of the construction of the house, when it settles down financially. During the construction of the basement, it is only necessary to determine the number and size of window openings and the height of the storey. The partition walls can be made by the investor himself, np. from gypsum boards.