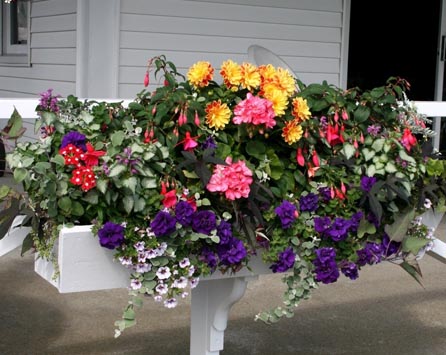 If our balcony is shaded – we should choose shade plants. Let's also remember this, that the balcony is located on the north or east side, even in summer it will be in partial shade for most of the day. So let's not plant tall plants on it because they can darken our room.
Green and in color. Green houseplants will feel great on a shady balcony: the herbivores (Chlorophytum), ivy (Ivy) and terns (Tradescantia). We can create interesting compositions with different shades of green from them. This green is easy to color – intertwining it, for example, blue-blooming periwinkle (Vinca) or forget-me-nots (Myosotis), yellow and orange marigold (Tagetes), violet (Viola) or dahlia (Dahlia) – with orange flowers, red, yellow, cream or white. They will also look good when accompanied by greenery: yellow, blue or orange nemeses (Nemesia), Begonia bulwiaste (Begonia tuberhybrida) – White, Red, yellow or carmine, or also – usually red – advertisea (\/coat of arms).
Just flowers. If you like compositions composed only of flowering plants more – we also have a lot of choice. Already at the beginning of spring we can plant white, Red, navy blue, yellow or pink primroses (Primrose). Then it is worth investing in impatiens blooming all summer (Impatiens) – White, or with intense colors of amaranth or red, or also – bright begonias. Its tuberous varieties are large yellow, White, red and pink flowers. Small-flowered varieties of evergreen begonia also bloom beautifully (Ever-blooming) the Pendulum – both of them are in shades of flesh pink, red or white. The latter looks particularly impressive – its dangling, flowering stems form dense, a colorful "wall". We can get this effect the easiest way, by placing Pendula begonias in hanging pots. Fuchsia is equally decorative – about the delicate, light green leaves and full flowers – two-colored (red-purple, red and white) or plain colors (red, biel, violet). They need a little sun for flowering, but they prefer to grow in partial shade. Therefore, it is best to grow them on the balcony from the east side. Hives like hives like the same exhibition (Coleus) with red-green and green-yellow leaves, as well as pink and yellow lobelia (Lobelia), miniature roses (Rosa) and gold and white gilding (Chrysanthemum).