Underfloor heating system – Heating mats.
Pleasant warmth in the kitchen and bathroom, quick installation. Electric underfloor heating will ensure pleasant warmth everywhere, where hot water underfloor heating cannot be used. Auto, how can you deal with a cold floor.
This problem is well known to residents of houses without underfloor heating. We go to the bathroom in the morning for the morning toilet, and it is warm there, but the terracotta floor remains cold. After a while we have cold feet. A solution to this problem is often only a bathroom rug on the ceramic floor.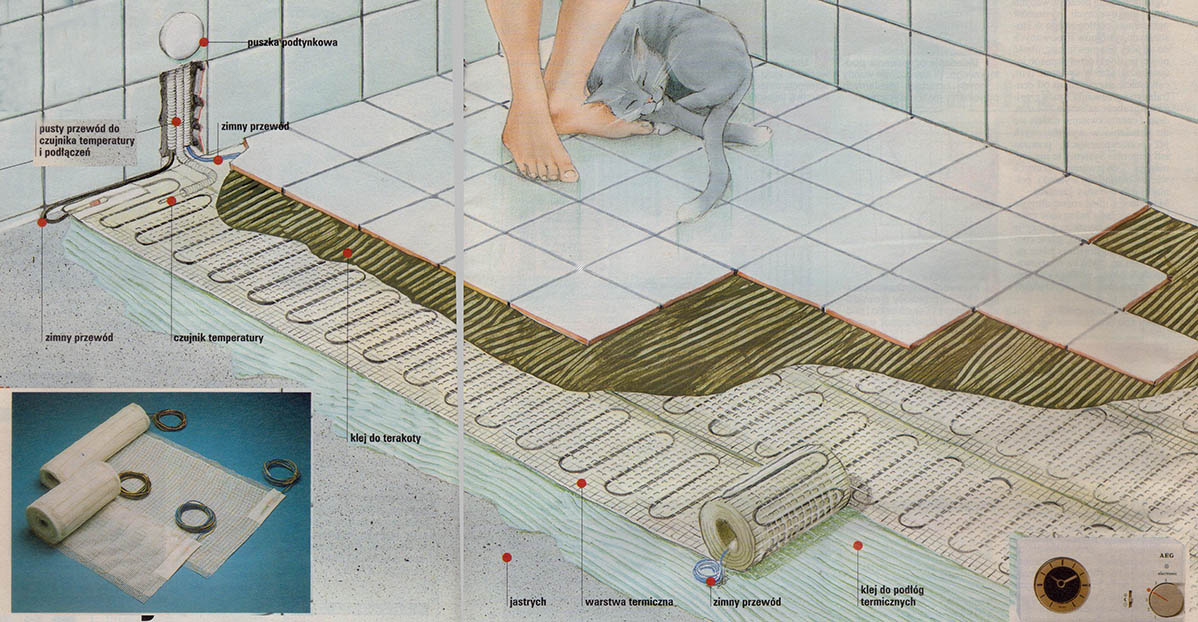 Heating mats, heart of underfloor heating, of different width and length. They are made of non-woven textile, into which heating cables are woven.
Heat according to the program. The clock thermostat enables temperature programming in time intervals, with an accuracy of up to 30 minutes, depending on individual heat demand.
Installing underfloor heating with hot water in an already finished bathroom is often too complicated or completely impossible. Even so, you do not have to compromise on a pleasantly warm floor, especially if we are going to renovate the bathroom. On this occasion, we have a chance to finally solve the problem of freezing legs during the toilet. Electric underfloor heating systems offered by various manufacturers are perfect for both kitchens, and for the bathroom. To be precise, they are usually not separate heating systems, but additional heating, complementary to a typical central heating.
In the latest underfloor heating systems – so-called thermo-floors – heating mats are the basic element, laid on the screed layer or – when we are going to put new terracotta on the old floor - glued on the old floor. The straps of the mat are made of non-woven fabric, into which heating cables are woven. The mats are insulated and resistant to moisture. The connection to the network is possible thanks to the electric wires at the beginning and at the end of the mat, approx 4 m. Almost all systems are powered by AC 220 V, for special applications (np. as wall heating) Electrically powered systems have been developed 42 V. A sensor in the floor constantly measures the floor temperature, which is then compared with the set temperature, and depending on it, the power of the system is controlled.
Super flat and the best for laying during renovation.
The great advantage of the electric underfloor heating systems presented here in relation to the systems used so far is the small thickness of the new floor and the simple way of installing the system.. In this system, completely independent of the central heating, the heating mat is only 2-4 mm, making it perfect for placing in finished rooms, during their renovation. These systems do not require pouring thick layers of concrete screed, acting as a heating layer. The mats can have different lengths and widths as well as different heating power. First of all, they should be laid in places, where we walk with bare feet and where we want the terracotta to heat up quickly, stone floor , wooden or carpet.
Laying the thermal floor is admittedly simple, however, it must be made very carefully. Under no circumstances may the heating cables connected to the electricity supply be interrupted, folded or crushed. Place the mats on a dry and dust-free surface, on a layer of special glue or on terracotta glue. On them, we put one of the floor coverings adapted to work with underfloor heating. Basically heating mats, empty cables and temperature sensors can be prepared and laid by a DIY enthusiast. However, all electrical installation work must be performed by an authorized installer.
Only a specialist!
Every DIY enthusiast has repaired a lamp or replaced a broken switch. In principle, each of these activities should be performed by a specialist, but many DIY enthusiasts have enough confidence in their abilities, to do it yourself. However, connecting underfloor heating is an extremely responsible job, similar to the installation of any other electrical installation in wet rooms.
Several stages of work on laying electric heating mats:
Laying underfloor heating. Trim the mats with scissors in the vicinity of the bathtub and other sanitary facilities.
Heating mats placed on the adhesive layer. After three days of drying, you can put a layer of terracotta on them.
Mortar for laying terracotta – suitable for underfloor heating – we spread it with a notched trowel.
The temperature sensor wires and cold wires are led inside empty covers and connected to an electric box.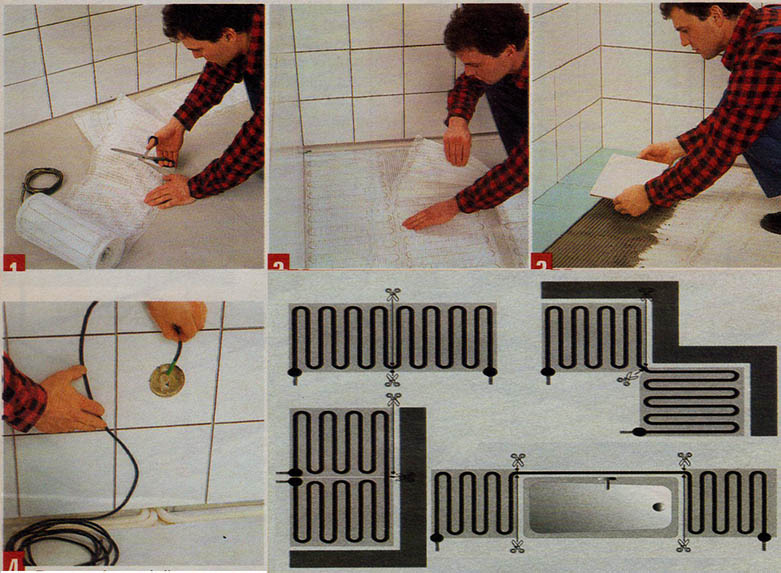 Optimal fit. Both in the corners of the room, and around them (left and top right) or in the vicinity of sanitary facilities (downstairs) mats can be cut and arranged in any way. First, we cut the non-woven fabric properly, and after that, diagonally, we cut the heating wire.
Three examples of thermal floor systems:
Thermal floor. The AEG system can be installed under any type of floor covering, as additional heating. The thickness of the heating layer is 2 mm. At the power consumed 160 W / m2 heating mats are wide 30 cm (length 3,3, 6,6 or 10 m). Application possibilities – terracotta and stone floors. Power mats 100 W / m2 are width 50 cm (length 4,6 or 12 m) and are intended for the parquet, carpet or PVC floor coverings.
Thermal fleece. Thermotechnik offers two different underfloor heating systems. The thickness of the heating layer is 3 mm, mat length 0,75 do 6 m, its width 0,5 do 1 m. power consumed 80 i 125 W/m2. The system can be used as the sole heating of a room or as additional heating. Thermal fleece thick 1 mm is intended to be connected to the voltage 45 V (through the transformer). It can have a different heating power (80,100 i 125 W/m2).
Mesh heating mat. Etherma offers two systems, whose heating mat 0 thickness 3,3 do 3,8 mm has a length from 0,7 do 15,8 m i szerokość 0,5 i 1 m. The power consumed is 80,100,120 i 150 W/m2. The system can be used as the primary or additional heating method. Thick mesh heating mat 1,5 mm can be connected to the voltage 42 V (through the transformer). Used as wall heating, it has thermal power 120 W/m2.