Wardrobe under a sloping roof, part 2
The course of work on the construction of the cabinet – do it yourself:
1.A typical attic room, wonderfully built-in. Place for a wardrobe, in this case it does 2,7 m wide and 2,1 m in height, counting to the beams of the roof structure. The roof pitch is 45 degrees, height of the knee wall 60 cm.
2. Elementy ramy łączymy wkrętami o długości 100 mm. Before that, we drill deep holes in the right places. The photo shows the connection of the upper crossbar with a vertical post. Adjust the edges at the top to the angle of the roof, cutting them diagonally.
3. Zanim zmontowana rama zostanie umieszczona na właściwym miejscu, we adjust the wardrobe door. The easiest way to do this is when the frame is still on the floor. We cut the door to the required size with a spreader saw. pay attention, so that all the paneling door strips are in one line.
4. Finish the paneled doors at the bottom and top with moldings. They are just glued, wherein, must be held with clamps until dry. Thanks to these strips, the door looks like solid frame doors filled with lamellas.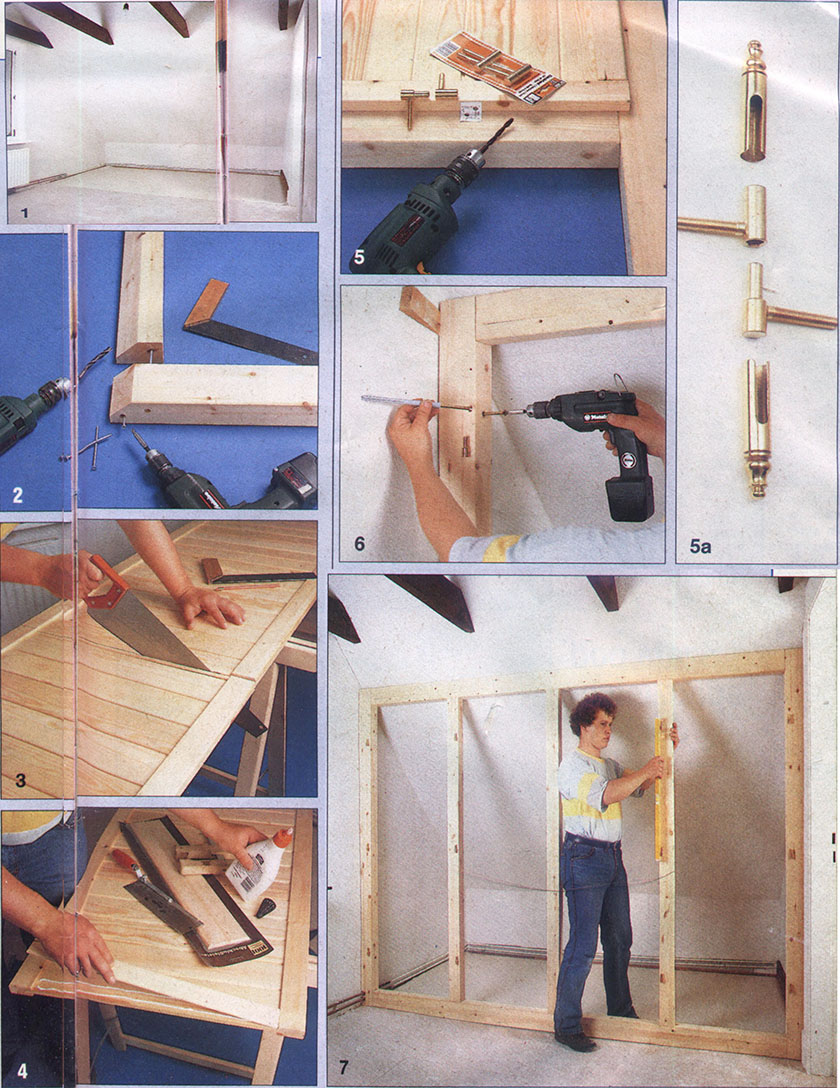 5. Drzwi okuwamy zawiasami wkręcanymi. To do this exactly, Place the door on the door frame on the floor and drill holes using the template included in the hinge packaging. Then screw in the hinges and put the door on the test. Plain copper sheaths, smooth hinges can elegantly decorate the raw front of a wooden wardrobe.
6. Ramę przymocowujemy do ścian z obydwu stron bardzo długimi kołkami rozporowymi. We will use wooden wedges to level the frame and place it exactly vertically. If the walls are uneven and there are gaps, the wooden frame must be properly finished.
7. Zanim dokręcimy wszystkie wkręty, the frame must be carefully positioned vertically and leveled. We can correct inaccuracies with previously inserted wedges. If the wardrobe is long, we also screw the upper and lower crossbar to the ceiling and floor.
CAUTION
Closet floor, instead of carpet, it is better to cover it with easy-care plastic or PVC.