Wardrobe under a sloping roof, part 3
Finishing the wardrobe in the attic:
8. If the wardrobe is to remain in the natural color of the wood, just pull the frame and door with furniture wax. We painted the frame twice with acrylic paint. Acrylic paint is not harmful to the environment and dries quickly.
9. Dodatkowa skrytka za bieliźniarką. At full depth 1,60 remains on her yet 1 m. Space behind the pantries, and a wardrobe can be used to hide many necessary and unnecessary things.
10. Rozcieńczoną wodą farbę akrylową można nanosić pistoletem malarskim. If the door is lying down during painting with the gun, then the painting will be free of any stains and thickenings.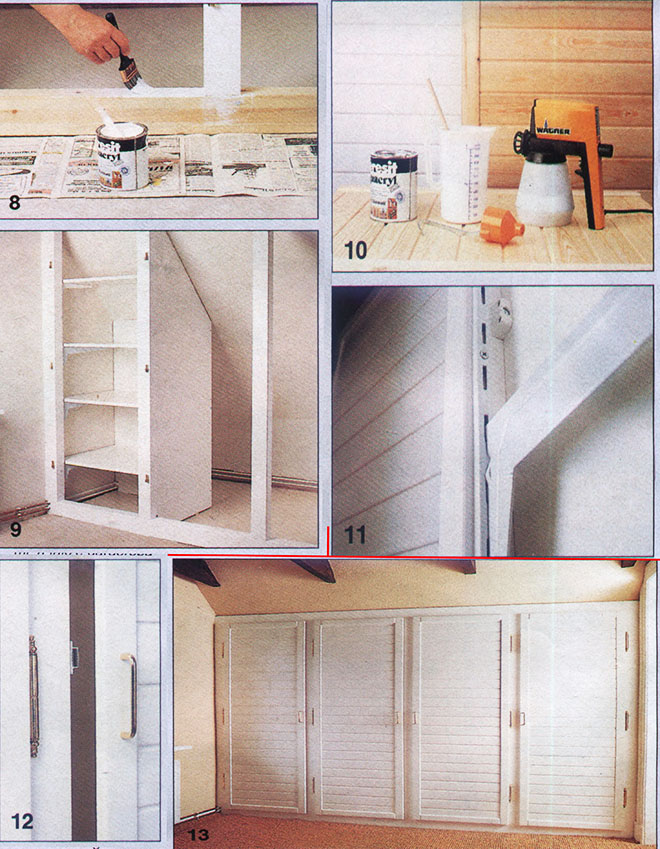 11-12. In the internal part, the partition walls are screwed to the vertical posts with trapezoidal fasteners. The photo also shows a rail with adjustable supports. The door has copper handles to match the decorative screw hinge covers.
13.Frames and doors in our wardrobe, they can also be of different colors or the shade of natural wood.