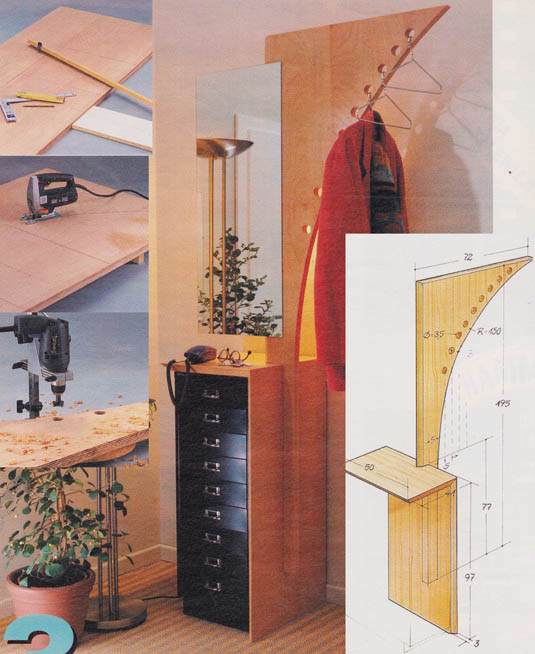 We admit, that our hanger design for the hall looks a bit strange, nevertheless, it is extremely practical and does not take up much space at all. The hallway furniture we design consists of two elements – from the cabinet body, in which a metal cabinet is mounted (black) and from a hanger cut in the shape of an arc. The body consists of one side plate and one back plate (beech board multiplex 30 mm, the edges are cut at an angle 45 degrees). Cut two elements at an angle and glue them together similarly to the previously presented washbasin (example 1). All three wooden elements (side wall, table top and hanger plate) you can cut multiplex from one board (195 x 80 cm), almost no residue left behind.
Mark the cut out of the arc-shaped hanger on the plate with a bar caliper, then make them with a jigsaw. In turn, on the straight edge of the hanger plate, we make a cutout for the cabinet. Then glue the side wall and the hanger plate together and twist them again from the inside.
All three elements can be cut from one multiplex board. It is best to mark the rounding with a bar caliper.
Use a jigsaw to cut out the hanger arch. From the remaining material, we can cut the top and the side wall.
A sednik drill 35 mm, we drill holes for hangers. Before gluing, we sand all the edges of the elements.