Wallpapering – new types of wallpaper. Effective wall covering.
New types of wallpaper allow you to achieve the effect of any surface. There are even such, which look more like stone than paper.
Handcrafted metallic wallpapers are made roll by roll, according to all the rules of artistic craftsmanship. They are made of paper laminated with a metallic layer, generally aluminum foil. The surface of the foil may be smooth, grooved, extruded, etched or oxidized – and depending on this, it acquires a different ability to reflect light.
Metallic vinyl wallpapers are also referred to as metallic wallpapers. The differences between them can be observed when trying to burn – in real metallic wallpapers only paper burns, while the metallized films are completely melted.
To allow the glue to dry under metallic wallpaper, it must be placed on an absorbent surface. The adhesive must not dry out on a non-water-absorbing surface.
The wallpaper with a metallic surface creates effective light reflections.
Textile wallpapers require a special adhesive for heavy wallpapers. It is best to apply it with a paint roller.
Cut off the overlap formed by the two sheets of wallpaper with a sharp blade, along a special rail.
You can find a wide range of adhesives in stores. There is a special glue for each type of wallpaper.
Inch, scissors, a roller of lamb fleece, utility knife, rail and pressure roller.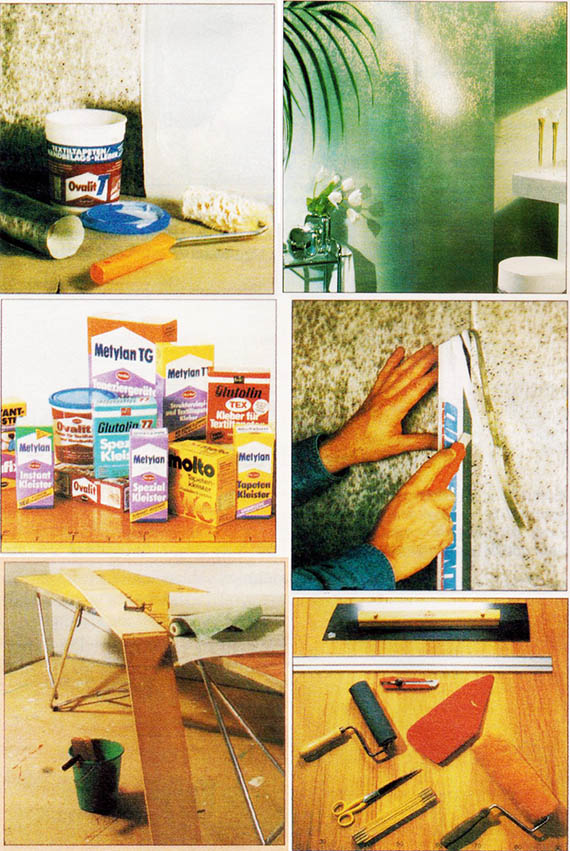 Wallpapering table with adjustable width. Standard wallpapering tables are wide 60 cm. If necessary, for cutting wallpapers of a different width, you can extend them with additional strips of boards, fastened with a plug.
The elegant structure of the fiberglass wallpaper.
Glass fiber wallpaper – this concept is somewhat contradictory. What you see in them is not so much wallpaper, how many one of the types of the so-called wall covering. The rolls are generally wide 1 m and graduated length, up to 50 m. The nonwoven fabric is dimensionally stable and has been classified as matter! hardly flammable, and sometimes even non-flammable. To, which in the case of traditional wallpapers is only a pattern printed on them, here it results from the structure of the non-woven fabric - partially emphasizing the arrangement of the horizontal fibers, partially the arrangement of vertical fibers, and sometimes even creating a ichthyosis pattern.
The practical advantage of glass non-woven material is its resistance to the blades of nails or screws. Hammering nails into a non-woven wall does not make the plaster pieces fall off.
A compromise solution is glass nonwovens laid on a paper backing. They combine excellent properties of glass fibers and easy processing of ordinary wallpapers. Out of all wallpapers, only they have this advantage, that they can be picked dry.
Glass non-woven fabric, ideal for the bathroom and toilet. Glass non-woven fabric – as a wall covering or as wallpaper – perfect for placing in wet places, if its surface is properly finished. It can be covered with acrylic or dispersion paints that do not contain solvents.
Walls in children's rooms are usually exposed to the greatest damage. Fiberglass wallpapers are as if designed for them.
You will need a steel rail for laying glass fiber wallpaper, utility knife, a spatula to press the wallpaper and sharp scissors.
Use a roller of lamb fleece to evenly apply glue to the wall, and not, as it usually happens, to the underside of the wallpaper, the width of the ply.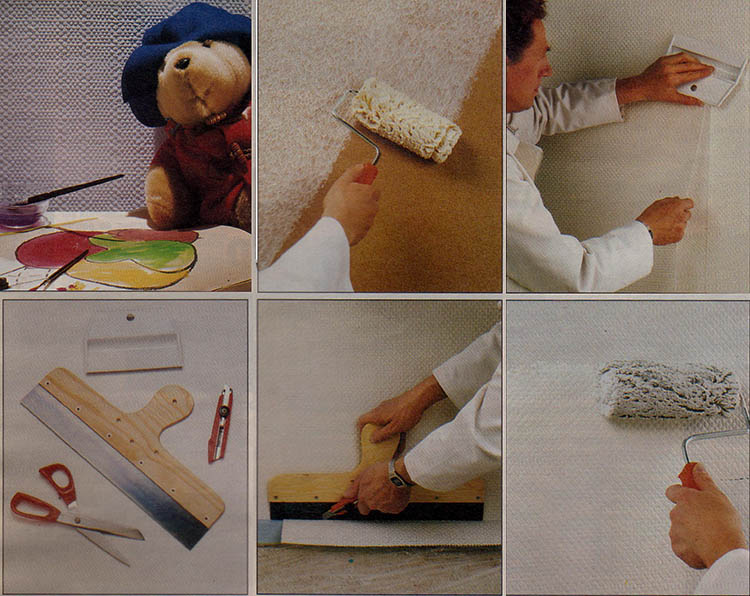 Dry, Place the properly cut glass fleece on the still fresh layer of glue, press and smooth with a putty knife.
Any excess of wallpaper near the ceiling or skirting board is carefully cut off along the steel rail with a utility knife.
If there are special requirements as to the durability of the wallpaper surface, we cover it with a layer of paint as an intermediate or finishing layer.