Galaxy DIY sneakers
Sneakers and sneakers decorated with the Galaxy pattern appeared in the collections of, among others, Converse and Nike. The original Galaxy sneakers, however, cost up to several hundred zlotys and definitely not everyone can afford them. However, we can make such sneakers ourselves and without great financial outlays. To make DIY galaxy sneakers we will need:
usually, cheap white or navy blue sneakers
a sponge, can be a dish sponge
fabric dyes
brush
wide scotch tape.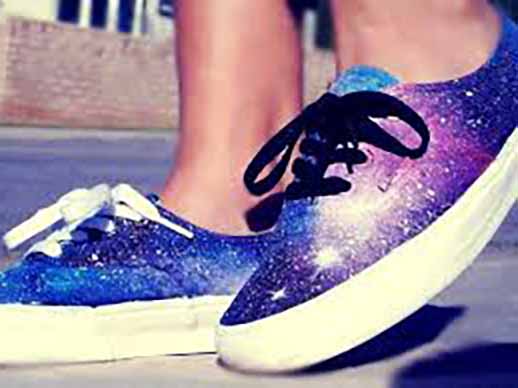 You can see how to make Galaxy sneakers yourself in the photo below. First, tape the sole so that it does not get dirty with paint. Then we apply the paint and, using a dish sponge, smear the next layers as in the photo below. The effect will not be visible immediately, so don't get discouraged too soon. If you are not sure how you will come out, you can practice first on a piece of fabric, before you start painting your sneakers.