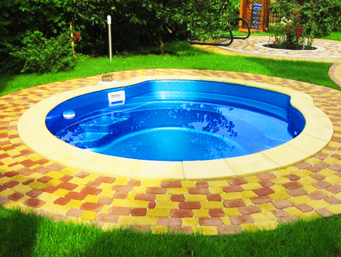 As soon as it gets warm enough, there is nothing more fun for children than playing with water. The best pastime is, of course, swimming in your own garden.
Swing, sandbox or slide – on hot summer days, children are not so impressed with anything, like your own paddling pool in the garden. It could be an old tub, a baby bathtub or a colorful inflatable pool. The main thing, to be big enough, that one or two children can fit in it along with their favorite toys.
The smaller the kids, the more important it is, that the pool walls are as soft as possible – which means less risk of an accident. Therefore, an inflatable colorful pool is best for young children, which can be easily purchased in sports or toy stores. A bigger pool will be better for bigger children – or bought ready, or made by yourself from leftover materials. First of all, the pool must be stable and safe. Therefore, it must not have any sharp edges. Wooden frames, which have not been sanded smoothly enough, cover with the remnants of foil or thin foam from the packaging.
An old tub can be used for bathing, a kettle for cooking linen or a vessel for mixing mortar, which can be purchased in DIY stores.
Great garden shower. If necessary, this role can be performed by an ordinary garden hose.
The small swimming pool with a wooden shore can also be used as a sandpit – the children of each year can decide, which will give them more pleasure.
Pool water for watering the garden.
Because babies always swallow a little water when bathing, the small water tank should be refilled daily. The water from the previous day is best used for watering flowers – is standing out, at moderate temperature, and still relatively clean.