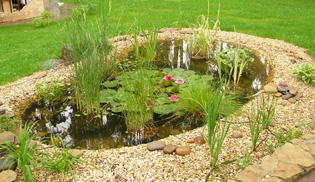 The water garden is a reservoir planted with aquatic and marsh plants. It can be found in any garden and can also be used as a water reservoir for watering. The basic condition is to place it in a sunny place, which will provide the necessary water temperature for the plants 15…25°C. For this reason, its depth should not exceed
1 m (only white waterlilies require such a maximum depth). It is better not to plant shrubs or trees near the reservoir, which can litter it with falling leaves, unless they are caught on a regular basis. Water during plant vegetation should be changed several times, otherwise, the algae developing there form a green bloom. This is prevented by the presence of fish in the tank, e.g.. carp, but they need a lot of space. The simplest water reservoir is a concrete circle or a barrel sunk into the ground. Large tanks are made of concrete on a wire or mesh structure. A reservoir can be made quite simply, using a minimum thickness of foil as insulation 0,5 mm. Before installing the tank, the area must be raked and leveled, determine the appropriate shape of the tank and dig a pit. The angle of inclination of the side walls should not exceed 45 °, so that the earth does not slide. The bottom is raking in, cleans from stones, roots and tampers, and then covers it 10 cm with a layer of sand, to prevent damage to the foil under water pressure. Then the pool is lined with foil, leaving overlaps of approx. 30 cm, which is covered with earth and strengthened with stones, so that the foil does not slip. A shallower reservoir for marsh plants is made in a similar way.
Garden soil is a good substrate for aquatic plants, peat, clay soil, leaf ground, turf or compost with the addition of sludge from a natural water reservoir. A layer of earth 15 is sufficient…20 cm, which is only enriched with the addition of peat, no longer adding any fertilizers.
Plants are planted directly in the substrate or in openwork wicker or plastic baskets, which weights with stones. The water surface should be covered with plants in 1 /3 parts. Water is admitted after planting the plants, very weak stream, and then he arranges stones on the banks and plants coastal plants, which will connect the tank with the whole garden.
Plants in the water garden
Plants are suitable for growing in a water garden: water – yellow water lily, white water lily, Żabieniec goby, Canadian marsh; boggy – marshland, marigold (muddy), yellow iris, narrow-leaved baton, lake rushes, tatarak; coastal to moist soil – tawułka, forest pane, tongue, primrose, rodgersja, fuller, grass: sedge and shakes, ferns: longhorn and a loft; coastal to normal soil – bugle, bergenia, bedbug, daylily, funkia, iris, forest pane, ferns: zanokcica, common room, the handpiece, longshaw, bulb plants: anemone, the chessboard diced, snowstorm, lilia, squill, trees and shrubs: palm maple, dwarf birch, laurel, hydrangea, magnolia, wierzba.