Sets of kitchen appliances.
To cook well, you don't need a large kitchen at all. For the compact kitchens shown here, corresponding to the size of a larger wardrobe, not even a special kitchen room is necessary.
Thanks to modern technology, you can cook quickly and comfortably, prepare cold snacks or receive guests, not having a large and fully equipped kitchen. Frozen food can be defrosted in the blink of an eye in the microwave oven. You can also use it to heat up previously prepared and frozen food in just a few minutes, to serve them to unexpected guests. Small fridges with freezer compartment make it easy to store food and drinks.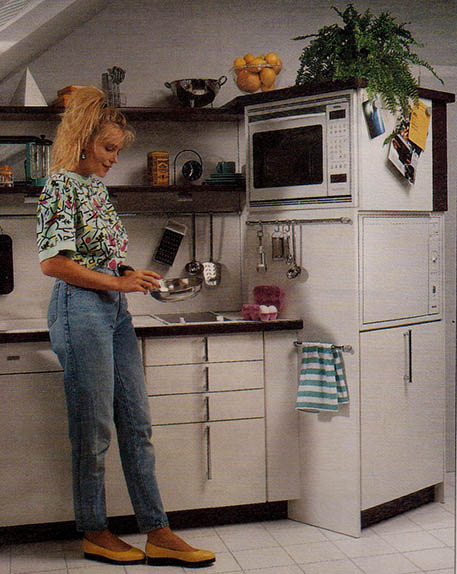 Kitchen block creates a powerful microwave oven, with grill, a dishwasher with multiple service programs and a refrigerator with a cooling capacity of three stars, with automatic defrost.
A small sink and a space-saving dishwasher make it easy to quickly prepare dishes and cutlery for the next guests.
Compact kitchen, set up separately or built into a row of cabinets. There is a sink in one piece of furniture, Microwave, a ceramic hob with two cooking zones and a refrigerator.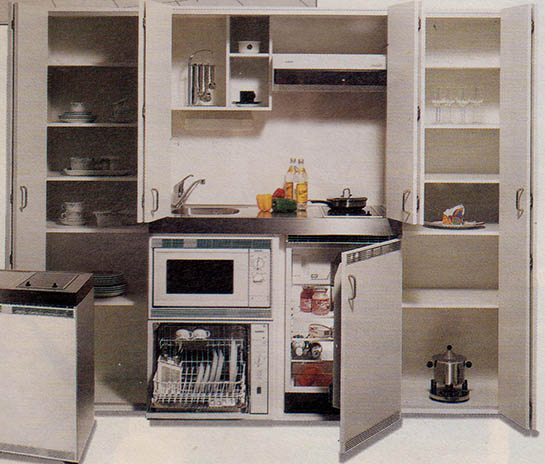 Compact kitchens, occupying the smallest possible area, originally intended for offices and guest rooms. Today they can also be found in many studios and small apartments, where they provide comfort and save the time of their inhabitants.
Compact – is the name of the little one, complete kitchen. Suitable for both offices, as well as for a small household. The ready-to-connect block can be placed separately or built into a row of cabinets. It is also available as a reverse version on request (the stove on the left, the sink on the right).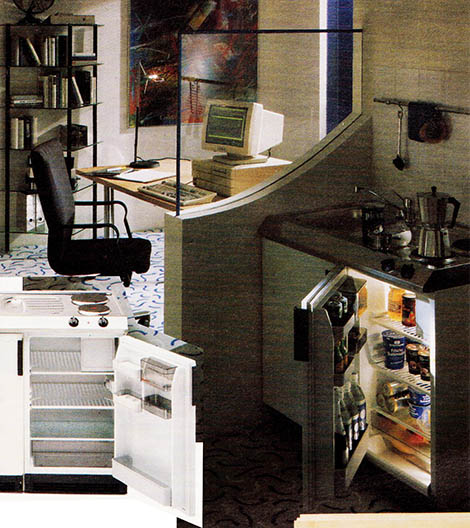 The advantages of the mini-kitchen are clearly visible - it takes up little space, is always at hand and – as in the example of a kitchen pretending to be a wardrobe – sometimes it is difficult to guess its presence. Another advantage is appreciated when you move for the first time – it can be transported like any other furniture.
The kitchen is completely hidden. Be it in a stylishly furnished office, or in the apartment – all the necessary kitchen equipment can be hidden in this wardrobe. On request, the manufacturer provides the enclosure in the form of a cabinet, as elements for self-assembly, in various styles and types of wood.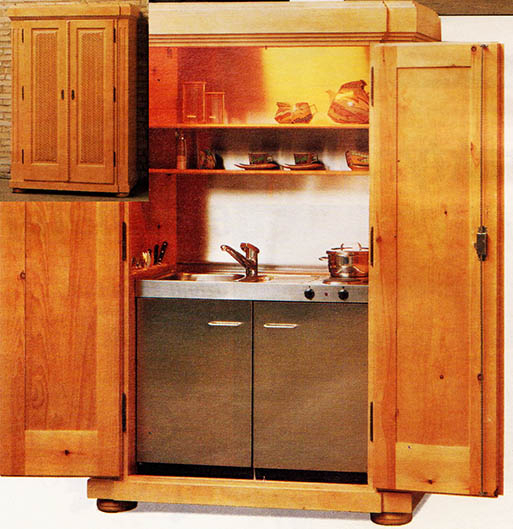 Compact kitchens are generally arranged similar to wardrobes. They are sold as a set of ready-to-assemble elements, along with the necessary equipment. You only need to connect it to the electricity (often via a simple plug) and for plumbing.
There are also models, which can be fully built into the wall of the cabinets.
CONNECTING THE KITCHEN – CHECK FUSES
Normal circuits are protected by fuses 16 A, which corresponds to the power consumption 3500 W. Therefore, before buying a compact kitchen, be sure to check, will it be possible to connect it to the network in the apartment.