do it yourself – wooden sandbox.
The construction of a full-fledged children's playground begins with a sandbox, consisting of many elements (slide, swing, cottage), which will be added as the child grows up.
According to parents, the sandbox is a place for games, in which you can keep your child occupied for a long time. Psychologists say, that the sandbox for children plays an important role: hand motor skills develop, creativity takes shape, shows perseverance and patience.
Types of sandboxes for children
There are two types of sandboxes for children:
1. Design features:
– open sandbox (easy to manufacture design);
– closed sandbox. It is popular among users, because it allows you to protect the sand from: dirt, rain, the wind, animals. In addition, a children's sandbox with a lid protects the sand from weather conditions, allows you to store toys under the lid (forms, shoulder blades, rake etc.), And it can also be used as an additional playground (if it is transformed into a table and chair).
2. According to the production material:
Plastic, metal, wood
Each of the materials has its own advantages and disadvantages.
Plastic sandbox
It does not overheat in the sun, has a compact size, it is light, easy to carry, transportation, and during your absence, it can be hidden in an outbuilding or garage. Among the disadvantages are instability to ultraviolet light, high price.
Metal sandbox
Provides long-term use, but it is not safe for children, it's also hot and laborious to make.
Wooden sandbox
The best option, because wood is environmentally friendly, safe and affordable.
Therefore, we will consider, how to build a wooden sandbox for kids – independent technology using available materials (tools). Let's start with the open one, as it is the easiest option to implement for beginners with no design experience. Production will only take a few hours, and if you have a competent drawing, you can attach a cover to it at any time.
How to make a sandbox with your own hands – step by step instructions
Etap 1 – Drawing of a sandbox made of wood
Despite, that the design is simple, the detailed layout of the sandbox allows you to rationally calculate the amount of material and choose the right place for the sandbox.
Often a sandbox made of wood is a square of a certain height, which protects the sand from spilling out.
Sandbox drawings (for simple construction) given below.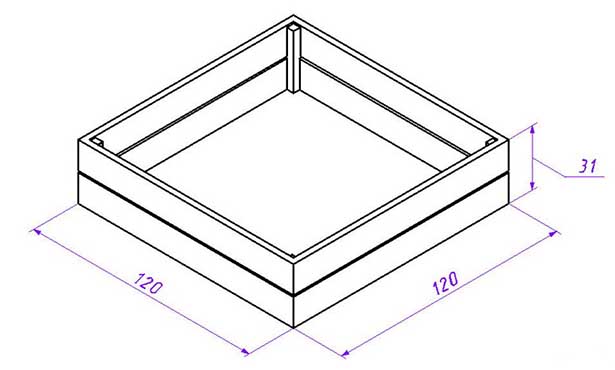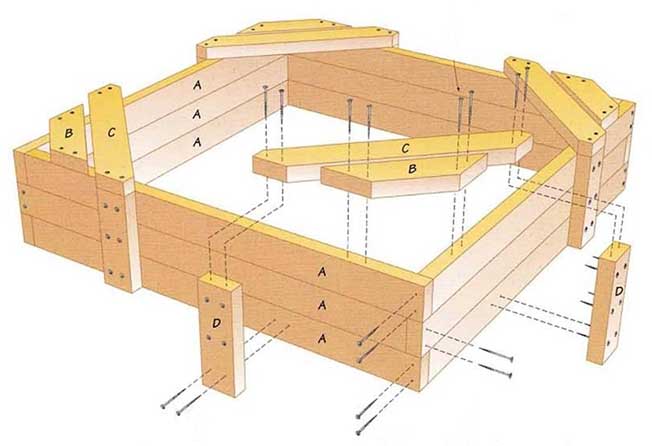 A more complex design: includes chairs, benches, tables, case, top, roof, slide, etc.. or a sandbox made in the form of a car (car), boat-ship, house-castle.
In any case, the functional purpose of the basic structure is the same – fence, which protects the sand.
She works. When planning to build a sandbox you should take this into account, for how many children it will be intended.
Building a sandbox with your own hands – tips
1. the length depends on the height of the sandbox, which in turn depends on the age of the child. The height of the sandbox should be this, so that the child can walk on it. The optimal height is 300 mm (remains 150 mm for digging and fastening the structure).
2. the thickness of the boards must be at least 30 mm. This will ensure sufficient structural strength and prevent the wood from cracking.
3. plywood is indispensable in the production of complex structures, like for example. sandbox in the form of a ship (the boat). Contoured products with a round shape are made of it, oval shape.
4. it is better to process the plates before assembly. This way, there will be no exposed pieces of wood.
Tool: saw, grinder, drill, drills, screwdriver, pencil, measure, level, pegs and cord, paint brushes.
Etap 3 – Designate a place for a sandbox
When the mounting location is selected. With the help of pegs and a rope, the outer perimeter of the structure is indicated;
inside the marked square, the soil is selected in depth 300-400 mm. You can do without it and pour sand on the ground, but it will quickly become useless, because it will mix with the soil while playing. In addition, ants and other insects can nest in it;
drainage system – a densely compacted layer of gravel, gravel and sand. The layer will allow the water to flow freely into the soil, and the sand dries faster. Additionally, users recommend laying a non-woven fabric, it does not obstruct the flow of water, but protects the sand on the underside from insects and moles.
She works. When using polyethylene, drill holes in it, to drain the water.
Many users are complaining, that after rain, puddles appear around the sandbox. This is eliminated, laying a layer of crushed stone and outside the perimeter of the sandbox – drainage, arranged by 400-500 mm. around the sandbox will allow the water to drain down quickly.
Etap 4 – Making a sandbox for children with your own hands
Brief construction technology:
1. pegs are hammered in the corners marked with a rope – the prop of the future sandbox;
2. one board is installed on each side, covered with an antiseptic;
3. then the second row of boards is nailed;
4. to equip the seats, treated boards (2 on opposite sides, 4 on each side) or plywood corners are mounted horizontally on top of the structure – the most budget option.
She works. It is important to, that the fixing screws sit firmly in the wood and do not cause injuries.
Second option, how to make a sandbox out of wood
The method assumes a slightly different work sequence, namely: first making a sandbox, then preparation of the installation site and further assembly of the sandbox. This option is convenient, when work is done together, because the construction, although light, it's quite bulky and it's inconvenient to install it yourself in that order.
Step-by-step instructions for creating a sandbox with your own hands are shown in the photo.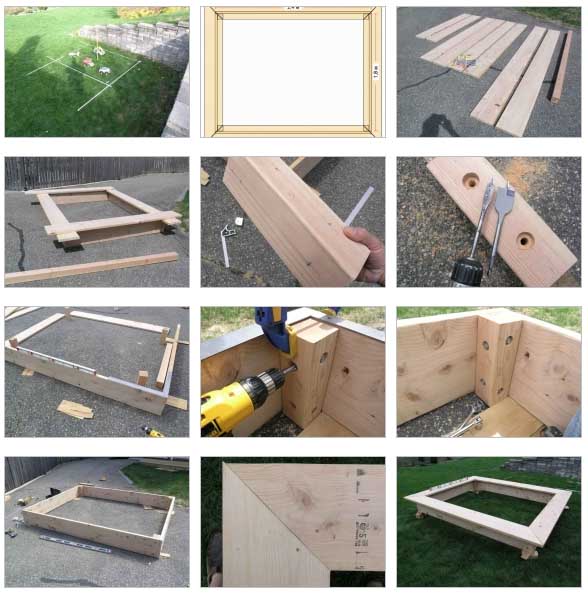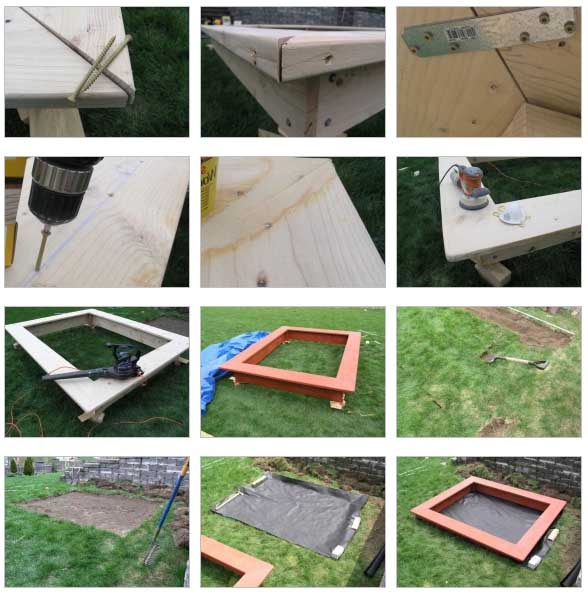 Etap 5 – Making a cover for the sandbox
Because a children's sandbox with a cover for a summer cottage is a more attractive option – Consider, how to make a cover for a sandbox.
The simplest option would be a removable cover, that is, the cover is thrown off the boards, but its significant disadvantage is the need to remove the cover before starting the game.
Therefore, it is more expedient to make a structure with two parts, that transform (they open and fold) in the seats. The photo below shows two options for a sandbox cover – folding and transforming into a seat. Please note, that the two outer planks on either side are stationary. They are firmly attached, making baby, and even an adult will sit on the lid without fear, to break him.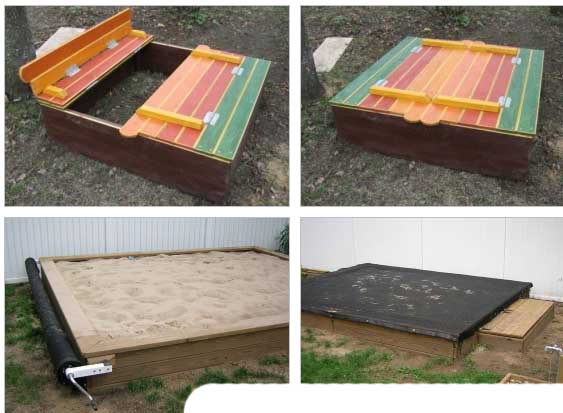 Etap 6 – Construction of a sandbox roof
Because children want to play in the sand at any time of the day, they must be protected from direct sunlight. To do this, you need to install a visor above the sandbox. It can be an umbrella or a fixed roof made in the shape of a mushroom or canopy.

Etap 7 – Sand for the sandbox for children
How to choose sand for your sandbox?
It should be noted, that the standards regulate the requirements for the maintenance of playground equipment, but do not include sand recommendations, except this, that when selling sand it is necessary to provide the certificates.
However, users have determined, what kind of sand is needed for a sandbox and have the following requirements:
– no pollution / items;
– good flowability;
– dust-free. Small particles of sand (fractions less than 0,1 mm) can get into your baby's lungs. To remove them, the sand is usually washed and dried or sieved through a very fine sieve;
– formability;
– humidity. The sand must be dry;
– hygiene. Sand should not contain animals (worms, spiders, worms, etc.).
What sand is best for a sandbox
Choosing sand, it is better to prefer:
– river sand, not sand from quarries. It is cleaner on its own;
– sifted, free from foreign bodies;
– Quartz sand is ideal. It is clean and forms well.
Ready sand for a sandbox for children can be purchased at the store. The presence of a quality certificate ensures its purity and absence of contamination.
How much sand do I need for a sandbox?
To fill a sandbox with dimensions of 1500×1500 mm you should prepare approx 0,5 cubic meter of sand.
average price 1 tons of sand for a sandbox costs 30 PLN.
How and where to properly install a sandbox for children.
So that the sandbox serves for a long time and does not pose a threat to children, when creating and installing it, you should follow a few recommendations:
– do not use metal parts;
– do not leave the boards uncut;
– ensure the presence of shade;
– place in a clearly visible place;
– ensure the absence of thorny bushes, honey plants and allergens;
– use high-quality wood and other building elements;
– provide reliable fixation;
– no electrical installation, snakes, pipes etc..
Proposal
A wooden sandbox with a lid or an openable one is an opportunity not only to please the child, but also to be creative. Sandbox in the form of a table, cars, hexagonal or round – not only will delight the child, but also allows you to decorate your holiday home with an original design, creative design.
Below is a gallery of other types of sandbox.