Attic adaptation – Paneling on the walls and ceiling.
The paneling is a relatively inexpensive and at the same time very decorative material, perfectly suitable for the attic. For 20 do 60 PLN per m2 can be purchased next to spruce and pine slats (in the photo) also Brazilian pine slats. The skirting boards should be purchased long before assembly and placed on the floor, that they dry well. Before mounting, they should be thoroughly covered with a colorless wood varnish.
Sequence of work
Before fixing the first batten, check that all rafters are even. if not, you have to take the most protruding one as a point of reference and thicken the others by nailing appropriate strips to them. An inequality of a millimeter or two does not matter. However, larger deviations need to be corrected.
1. First, Nail the bottom strip at the cut of the roof. The skirting board will cover the nail heads. If you are planning to lay a thick carpet or rug, put a strip of fibreboard under the first strip.
2. You should think about socket and switch boxes after installation 30 cm of paneling. We cut holes for special boxes for light wall constructions with a hole saw, then insert the can and tighten the clamping screws.
3. The cables should be pulled out through the boxes along their length 20 cm. The correct connection is made by an electrician (this must be reported in advance).
4. If we install the paneling in the attic with a hipped roof, where the two curves meet, it's best to make a template first.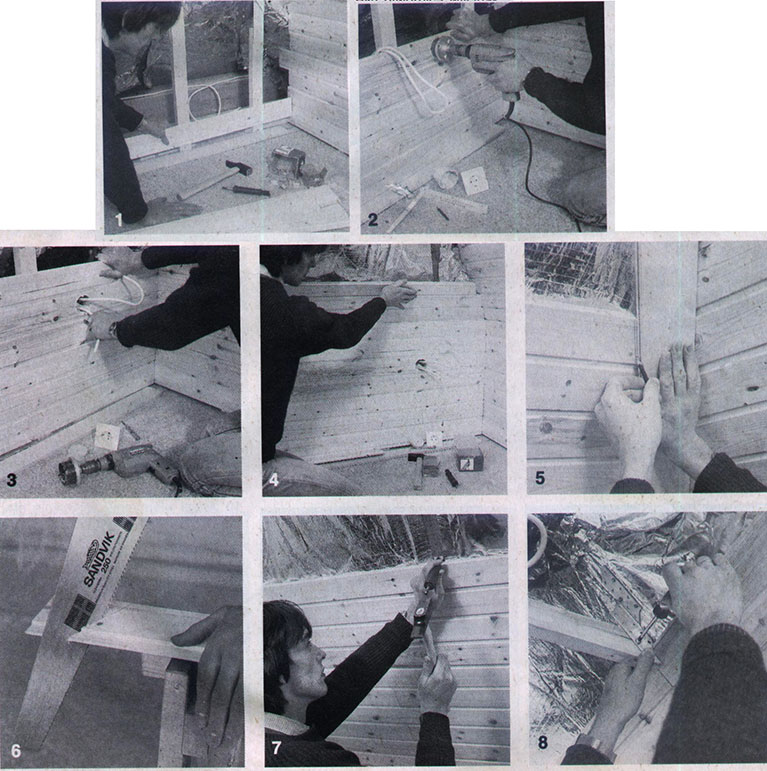 5. We apply a short piece of paneling, then we draw the curvature precisely .
6. In the marked places, cut the batten with a sanded spreader. Always on the right side of the slat!
7. The battens are usually nailed to the rafters with sheet metal staples. We do it with a magnetized nailer. If anyone has an electric tacker, it can shoot larger braces, which will connect the edge of the groove with the rafter.
8. Short crossbars can be nailed directly to the rafters or with a metal angle.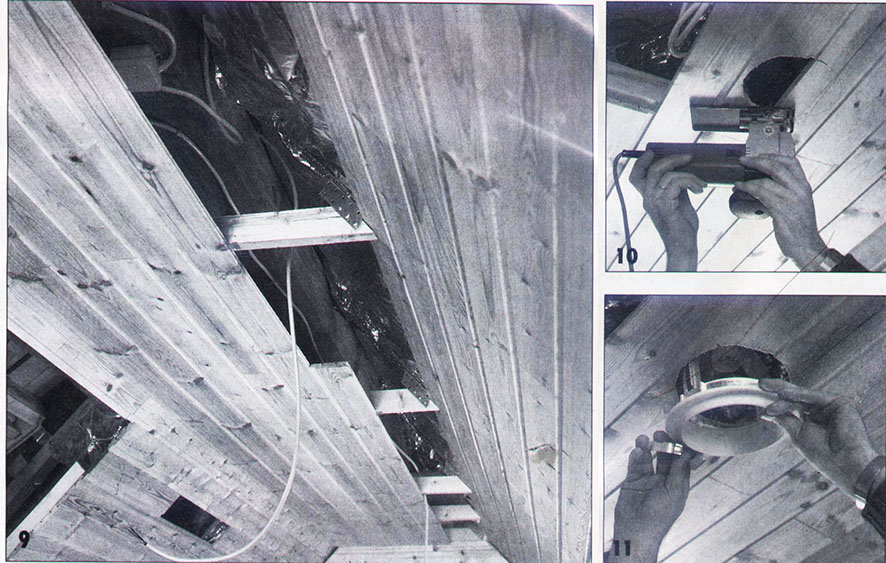 9. Before completely covering the ceiling, remember about the electric wires. You can, just like in the walls, pull out some cable, depending on the type of lamp, or install a recessed ceiling lamp immediately.
10 i 11. Built-in ceiling lamp (Hoffmeister) it is practical and inexpensive. Use a jigsaw to cut the hole for the lamp before the ceiling is completely covered.
Even if the attic has been converted into residential purposes, it must continue to fulfill its traditional functions. So keep in mind, that the chimney sweep must have access to the sunroof, through which, in turn, it can get into the chimney outlet. Usually the chimney window is dull attractive. If there is enough light through other windows, we can cover them with a latch with a bolt.