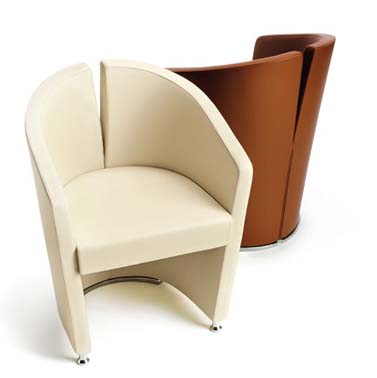 Chipboards available on the market, hardwood, plywood etc.. they encourage an ambitious DIY enthusiast to design and make furniture, which are not found in ordinary furniture stores. Unfortunately, not all ideas can be realized, often there is a lack of appropriate materials or specialized tools. As a result, the obtained effect differs from the dream one. One of the reasons is the limited processing possibilities of traditional wood panels and slats, which are packaged in specific dimensions. This has the effect of limiting individual projects, although it favors mass shopping. Some fillets and arcs needed, np. to make the backrest of a chair or side parts of racks, can be cut with a hole saw, but there is not much room for maneuver here.
Flexible fibreboards. Much greater possibilities of implementing bold carpentry plans, are provided by new Glunz MDF boards. They are made of fine wood fibers with the addition of binders and have special grooves, which enable the bending and forming of the plate, according to the required shape. Round chair back, columns, wall cabinets with convex doors, round supports for table tops and many other items can be realized, using a new type of plate. Round shapes are obtained by butt-gluing two boards.
In the example shown here, traditional furniture boards and new boards were used, equipped with grooves. The latter are increasingly used in the furniture industry. In addition to the advantages already mentioned, they can be easily sawed, chamfer, mill and grind – the processing is the same as for solid wood.
The plates are relatively heavy, have a compact structure and are resistant to deformation. Screws with a smaller diameter are used for screwing the boards than for solid wood, so that they have good adhesion in a homogeneous material. Before painting the board, it is necessary to fill the exposed edges (are sensitive to moisture), and then sand it.
A few more amenities can be introduced to the presented armchair, for example, the handrail under the arms should be made of double MDF boards. The seat and backrest of the armchair must be equipped with comfortable cushions. So cut the foam to size and cover it with an attractive material. To prevent the cushions from slipping, they are attached to the base with Velcro.