Tips for the DIY enthusiast:
Children's bed - a piece of furniture - a toy.
Why do we build them ourselves? Of course, for fun and to make your child happy. In response to our baby bed proposal, one of the readers sent us his own idea of ​​a bed for a children's room. In our opinion, both the project, as well as its implementation are perfect.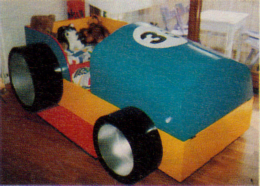 The wheels serve as shelves to put away the bedtime book, the engine hood can be folded down – our Reader writes. The solution is certainly worth following.
Wood pests
In your articles you sometimes deal with wood pests. I have another way for them. I am a carpenter myself and I solve the problem of wood pests in a simpler way. A piece of furniture attacked by pests should be wrapped in black plastic foil and left in the sun all day.. The temperature inside the package can then be higher than the temperature generated by the heat gun, without energy consumption. Jerzy, Koszalin Thank you for this advice. This method has only one disadvantage – you have to wait for a warm and sunny day.
Framing pictures
Can you give a hint, how to easily make a picture frame?
Jaroslaw, Białogard This is usually done with the use of fastening tapes and clamps. The simpler way requires the preparation of the mold, made of square slats nailed exactly at right angles to the appropriate size of a wooden board. We start by nailing three slats, then lubricate the slats of the picture frame with glue, we put them in the mold and close it with the fourth strip. We load the frame slats, preventing them from warping.
Acoustic insulation
We have recently been living in our own apartment, in a newly built block. We are very disturbed by noises coming from our neighbors' apartment above us. Is there a way to isolate yourself from them?
Wieslaw, Moose We often face such problems, however, the answer to the questions posed on their occasion is always the same. Because noise is transmitted through the walls - even then, when it seems to us, that the clatter is heard directly above us – no effective insulating materials can be used. The only possibility is to discuss with your neighbor the possibility of lining his floor with a thick carpet or a layer of cork, to at least slightly reduce the sounds of footsteps.
Colorful refrigerators
At the last fair – a well-known manufacturer of Polish household appliances – presented an unusual offer of its products. Refrigerator, yellow freezer or washing machine, green, red and blue will satisfy the most sophisticated tastes of the ladies of the house, who like to shock their guests with the originality of kitchen equipment. Experience shows, that colorful household appliances can be perfectly harmonized with other elements of the interior.