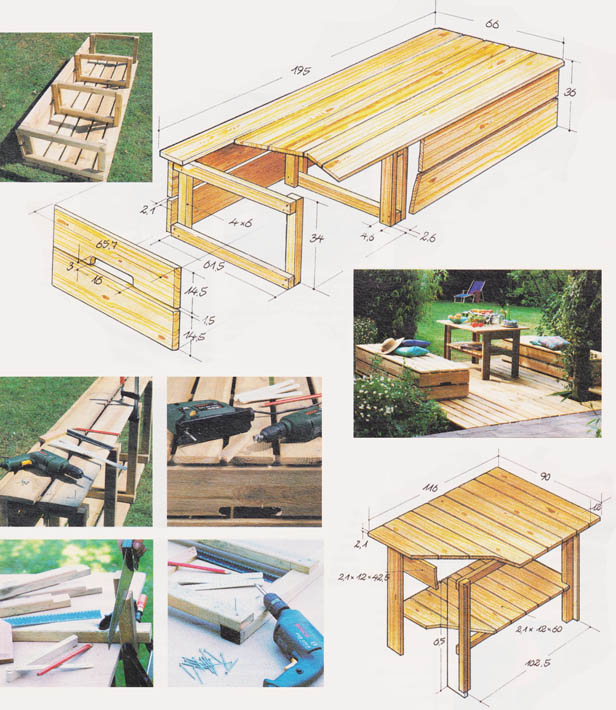 The way of making the bench.
From the bottom, the bench has four legs in the form of frames. The vertical elements of both inner frames are made of double slats.
The boards that serve as the front and back sides of the bench are slightly wider (14,5 cm). They improve the strength of the structure.
We cut the handles by drilling a few holes in their roundings, enlarging them with a chisel and cutting straight lines with a jigsaw.
A bench with dimensions 66 x 195 cm and height 36 cm is perfect for a couch. We board it with boards on all four sides.
The method of making the table top.
Small table. The table top protrudes approximately on each of the long sides 15 cm. You can also place the legs of the table exactly in its corners.
The table legs are made of slatted frames 4 x 6 cm. Their upper ends should be cut in half with a saw.
In the corners, we connect the slats with two screws. On them, we place a crossbar as a support surface for the table top.
The seats of both benches shown here were made in a similar way, like the surface of the landing. Each time we used five boards of the same width 12 cm. They make up – while maintaining constant equal distances between them 1,5 cm – wide seat 66 cm. The length of the benches in our case is approx 195 cm, and the height of the seat – 36 cm. We have chosen this dimension, so that you can also lie on the benches, preferably on wide cushions 60 cm.
Each bench designed by us has four legs in the form of twisted frame slats. Wanting to ensure the necessary strength of the benches and their better appearance, on the side, on the front and back surfaces of the bench we screwed boards with a width 14,5 cm. This way the benches not only look more massive, but at the same time they are more durable. To make it easier to move the benches, in the upper plank of the side surface, we cut a hole with a width 16 cm and height 3 cm. After assembling the bench, first of all it belongs}' grind the front surfaces of the boards, forming a seat.
The legs of the table are made of slats with dimensions 4 x 6 cm. The upper connections are made overlapping, thus, the vertical members were sawn halfway through their thickness. They were bolted with cross members. Making a tabletop with dimensions 115 x 90 cm requires the use of eight boards.