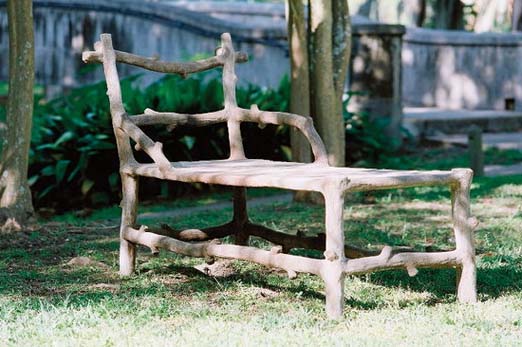 Compared to pieces of wood, from which this furniture was made, ordinary glued plates, scantlings and slats look dull. Knotty or branched branches, thin trunks and long rods stimulate the imagination. Some of them, in a way, define the shape of the tables themselves, stools or chairs.
When, after pruning trees and shrubs, a huge pile of wood forms in the garden, we are faced with a choice: fire or grinder. And maybe so: neither, nor the second. For somebody, who can recognize valuable material among this waste, it is a great opportunity to create items of unique value. A walk in the woods can also bring you valuable finds. You can stock up there with the consent of the forester (for a small fee or completely free) into the most beautiful and best arts.
The sense of finding the right material sharpens over time, but these few examples presented here give you an idea of ​​the possibilities of natural wood. The armchairs made of willow rods are extremely comfortable and probably thanks to this they are very popular in the western USA, where they have been built almost unchanged for over a hundred years. An unusual chair with a backrest decorated with tools, was built of wood – without any treatment.
Sometimes it is enough to take a closer look at the found piece of branch, to admire the structure of the cortex, the arrangement of the rings, knots, the natural direction of the twist of the fibers or the color. It is a pity to simply use as fuel for such masterpieces of nature.
Classic combinations of wooden elements, as tenons or grooves are also used in the construction of natural wood furniture. In some cases, forms shaped by nature can also be used – the armchair's handrail may arise from the side shoot growing from the branch used to make the armchair leg.
To practice this type of furniture, you need a large material composition and a spacious workshop. Furniture made of boughs does not have to have a natural color. Strong, contrasting colors emphasize the originality of their shapes. Roots often captivate with their bizarre forms. Old logs are good for table tops and chair seats. However, they need to be carefully sanded. A chair made of branches complemented by a woven seat. Debarked, smooth tree shoots acquire a beautiful golden color, after rubbing them with beeswax. An attractive composition of old tools and raw branches also serves as a comfortable chair.