Sandbox with a playhouse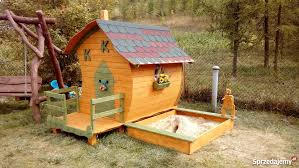 When arranging a small playground for a child, we first think about the sandbox. This is such a place, where the little ones like to spend time, it's easy to keep an eye on them, because they can deal with sand molding longer and the fun is simply fun. Simply digging in the sand evokes real emotions in children. For starters, for 2, 3-4 puppet, you buy a small sandbox in the shape of a shell or a turtle. They are easy to assemble, maintenance, cheap, you don't need much sand for them and your little one doesn't need too much space. However, with time, when he grows up, it might be worth changing the sandbox. And if we have more than one child at home, it's a small plastic sandbox will not work, and will become a source of quarrels and scuffles instead of pleasant children's entertainment. Also with age, interests change.
Older children love creative games, requiring greater commitment, therefore, a sandbox with a cottage may be an ideal place. Fun both for girls to play with dolls and for boys. The sandbox connected with the house will appeal to every child, without a doubt. The house itself and its platform are perfect for placing grandmothers or a good place to rest while having fun, shelter from the sun or rain. Usually the entire structure is made of wood, impregnated and resistant to sunlight and water.
Cottages come in very different forms: from very simple, resembling small verandas, to fancy models with a wooden roof, benches inside, a window and a slide. It is difficult to choose the most suitable one, they are all tempting and parents can already see their children amused in such a sandbox with a house through their eyes of imagination. Such a gift for a child's day or birthday is almost like a dream come true for a few years old. In this way, we will create a land for him to play with imaginative friends or colleagues, and even to spend time alone in an interesting and open air.
The prices for sandboxes with a playhouse are very different. They depend on the advancement of the building, as well as the materials used for its production. Large wooden houses are the most expensive, but noteworthy at the same time, because it is a fully ecological and child-friendly material. Small sandboxes with an uncomplicated house, also wooden, are a bit cheaper. Some have wheels that allow the house to be put on the sandbox.
Price of sand for a sandbox
Sand in the sandbox is that, without what it would not be such an attractive playground for children. Long hours spent setting up the cakes, building castles, creating tunnels etc., that's the fun of playing in the sand. Perhaps many more adults, who today choose a sandbox for their own children, remembers his adventures in the sandbox. This is undoubtedly an indispensable element of growing up and every child enjoys such entertainment, and if, in addition, there are cool sand toys at your fingertips, fun is guaranteed.
Parents creating a sandbox for a child or in the garden, whether on the terrace or balcony the question will surely come to mind, which sand to choose? What to consider when choosing it? Are there special types of sand for the sandbox?? and finally, how are the prices of play sand for children?? Seemingly it's no problem to pour any sand. After all, it is just sand and when combined with water, each can be formed for the use of children's games. Well, not really. The best sand is certified by the National Institute of Hygiene.
For home use, you can buy a small amount and then replace it yourself. In large sandboxes at playgrounds or in kindergartens, special companies handle the replacement of dirty sand. How much sand to buy to fill the sandbox? It depends on its size. Sure, that it can be done by eye, pouring it in enough to leave from the upper edge of the sandbox 8-10 centimeters. Or use calculations. For this you can use the sand calculators available online. We introduce the dimensions of the sandbox in cm there and get a quick response; how much sand should we buy.
Sand for sandboxes should be white- yellow with fine grains, previously washed. It should not be ordinary construction sand. This one can contain both smaller and larger sharp grains and be unpleasant to the touch. Shops offer special sand for sandboxes, marked and certified, in foil bags the most common 20- 25 kilograms with a guarantee on 2 lata. It happens, that in the place where we buy the sandbox, the seller adds sand for free. If there is no such offer, it is best to look for garden equipment stores or DIY stores. Sandbox sand prices vary. But overall it's not expensive around 10-20 PLN for a bag of the said size.